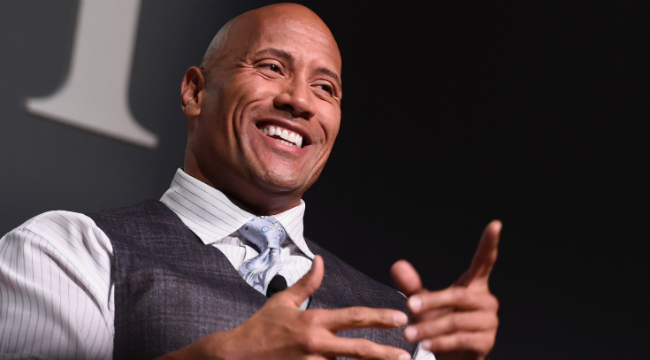 Dwayne "The Rock" Johnson is continually building on his brand through film, TV, and even social media, only leading to the day when he'll eventually run for president. It's inevitable. In three weeks, The Rock's new film, Central Intelligence will release, and it's just the first in a string of certified hits for the multi-hyphenate as Baywatch, the Jumaiji reboot, Rampage, and Fast 8 are all due out in the next two years.
Now, Johnson has added another beefy helping of movie media onto his plate, as a bidding war shook the rafters in Hollywood over his newest project titled Skyscraper. It's yet to be seen if that's the real title of the film, as the plot for the movie is being kept pretty tight; only the players involved know what it's about. All we know is that it takes place in a giant skyscraper in China, and The Rock is going to fight people in it. (Please let it be a quiet drama about a man trapped in an elevator.)
Rawson Marshall Thurber (Central Intelligence) is the writer/director on the feature and The Rock is attached as producer. Legendary won the bidding war with a $3 million bid. No word yet on when the film is slated for release or if it will be a spiritual remake of The Raid (fingers very crossed).
(via Variety)