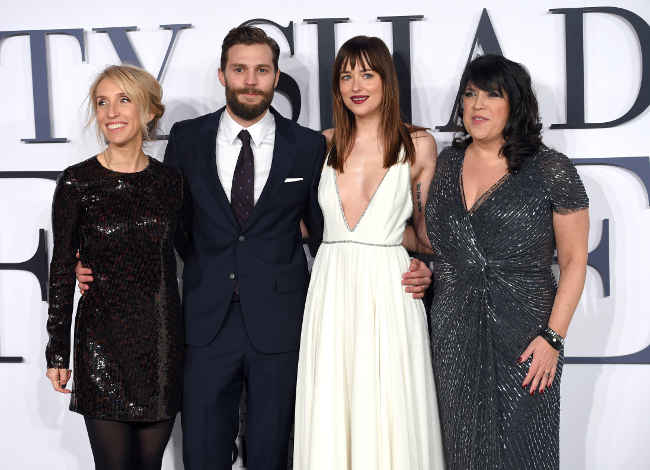 Come December, Fifty Shades of Grey could end up being the No. 1 movie on every critic's list of the worst films of 2015 (not that I'm tipping my pitches this early in the game). But it won't matter because this film is already a frontrunner for the biggest blockbuster of the year, with more than $300 million earned at the box office in its first week, and still poised to dominate the weak competition this weekend. As with any big box office winner, though, it's no longer about "How much more can this film make?" because Universal and Focus Features want to know "How much will the sequel make?"
As we already know, at least two more films are a go for the Fifty Shades franchise, but now author E.L. James, AKA Snowqueens Icedragon, reportedly wants to get out in front of Fifty Shades Darker and take back some of the creative control that she had when she originally wrote the story of Christian Grey and Anastasia Steele for a Twilight erotic fan forum.
According to insiders, the delay in the production of "Fifty Shades Darker" is related to Universal execs and James still arguing over details. Unlike most successful franchises, which aim to retain the team behind the first film, it appears that "Fifty Shades" will undergo a dramatic creative reshuffling in the weeks to come. Sources close to the project don't expect director Sam Taylor-Johnson or screenwriter Kelly Marcel to be back for the second installment, despite reps for the studio saying no official decisions have been made.

"The studio had always intended to sit down with the author after the film opened and discuss next steps and that has not yet happened," said a Universal spokesman. (Via Variety)
The problem with James writing the screenplay for Fifty Shades Darker is that she's never written a screenplay before, and that means if Universal and Focus want to give Darker a realistic opening date, like Valentine's Day 2017, James will either have to be very good as a first-timer, or the poor rewrite team is going to have to fix her mess in a hurry to make sure filming could start on time.
As for James' potential as a screenwriter, I'd like to return to a Reddit thread that I've written about in the past, as a former member of the "collective collaboration" community that James allegedly helped herself to ideas from before manipulating the users into pushing her stories to the top shared her thoughts on James' future as an author:
Erika never looked back. She actually has blocked every single person I still know from fandom on her twitter account. She used the community to get her book (most ideas created by the community itself) to #1 then essentially shut the door on them all.

Pretty brilliant, really.

But then, that's why she's not putting out any new content, and why she probably never will. She is likely incapable of producing fiction without the use of existing characters and a collaborative community. Erika Leonard is not a creator, she is a marketer.
Again, that's just someone's sour opinion, albeit a fun one. But if James believes that writing a screenplay requires nothing more than the source material pasted into a different format, Fifty Shades Darker is going to be in a lot of trouble. If you're holding out hope for a quick turnaround from the studio, you might be better off listening to all those porn stars.