Summer's over now (allegedly), and if there's one thing good about that, besides Oktoberfest beers and having to change underwear less often, it's that the movies get a lot better. Fall is a time when we finally get those mythical movies aimed at adult humans we hear so much about. Fall means film festival season, a time for sumptuous galas and glamorous awards shows — in a word… prestige.
Okay, so that doesn't exactly describe Fantastic Fest in Austin, the festival I'll be covering for the next week, which is more like Sundance in a Slayer t-shirt. Fantastic Fest is all about genre movies and schlock, but hopefully the good kind. Anyway, here are some movies we're looking forward to.
Hold The Dark
Jeremy Saulnier (Blue Ruin, Green Room) has a new movie out. Do I need to say more? Probably not, but just in case, Jeffrey Wright plays a "naturalist and wolf expert." So Wolf Expert Jeffrey Wright™ has been sent to remote Alaska to investigate the death of a boy who has been killed by wolves. Also stars Riley Keough (American Honey), Alexander Skarsgard, and James Badge Dale, and was adapted by Saulnier's favorite collaborator, Macon Blair (I Don't Feel At Home In This World). Yes, please.
Lords Of Chaos
I've sought out every possible permutation of the Norwegian black metal saga — Euronymous, Mayhem, Death, Count Grishnackh, the church burnings, etc. — since I first read about it in a guitar magazine in the late 90s. And this version, directed by Jonas Akerlund (Spun, about a million music videos), starring Rory Culkin as Euronymous, will be no different. Insane metalheads killing each other and huffing dead bird fumes? Yes, please. Apparently, this one's been in development forever, with Robert Pattinson set to star at one point. Whatever the case, I'm glad it's here now. This one played Sundance and was recently acquired by Gunpowder and Sky, an indie distributor, so there's a decent chance you'll actually get to see it soon.

The FP 2: Beats Of Rage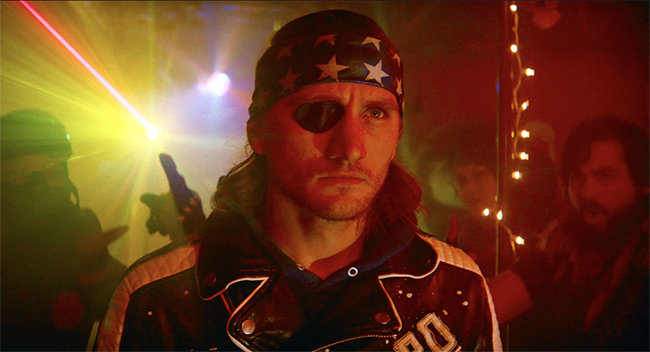 First off, yes, I'm biased, on account of I got to emcee a screening of The FP 1 at SF Indie Fest seven years ago. But that doesn't mean it's wrong to be hyped about the sequel. For the uninitiated, The FP was a film about a small town that's been torn apart by rival gangs of Dance Dance Revolution players, who all talk like they were raised by Juggalo YouTubers, and now all the town's ducks are gone. What's a town without ducks, J-Tro? It ain't nothin'.
You know those silly videos you'd make with your high school friends? The FP was basically the platonic ideal of that, except made by three really talented siblings who all work in the film industry (the Trosts — star/co-director Jason, co-director Brandon, costume designer Sarah), and completely bonkers. J-Tro is directing on his own this time (Brandon is one of Hollywood's busiest cinematographers now), but I've already seen a few minutes of the sequel and it looks fantastic.
Apostle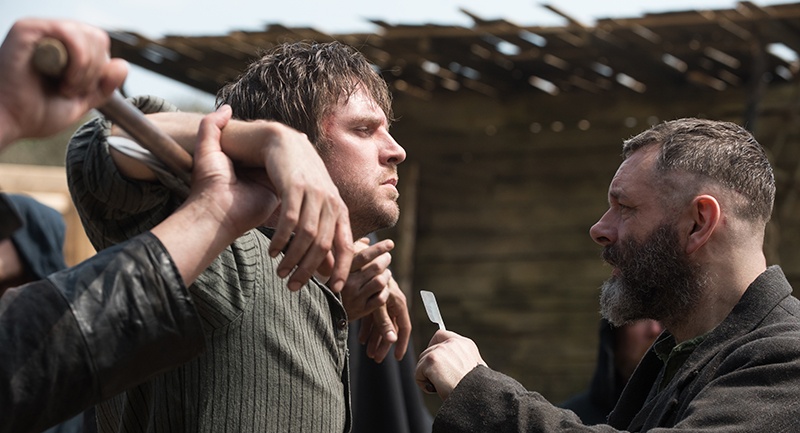 From the director of The Raid (Gareth Evans) and starring creepy Dan Stevens, Apostle is set in a utopian religious cult in the Edwardian era, my favorite of all the eras. Don't laugh, dummy, I'm serious. Have you seen The Knick? Come at me with an era that's better than Edwardian. Yeah, that's what I thought.

In Fabric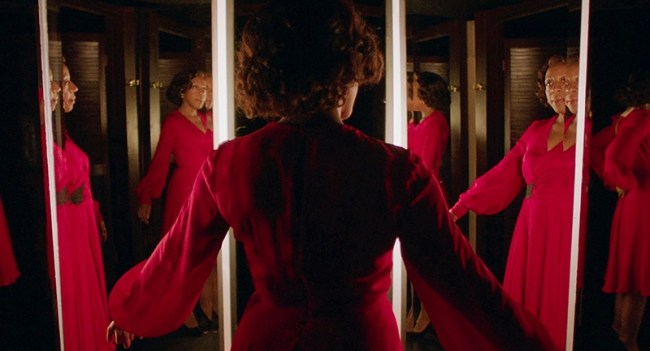 In Fabric comes from Peter Strickland, previously of Duke Of Burgundy, one of the few films I've ever seen that I felt like I was too dumb to get but still kind of wanted to. He's back with In Fabric, about a single mom who buys a dress for an online date, but it turns out to have special powers. Yeah, I dunno either, man, Duke of Burgundy was really hard to describe too.
Destroyer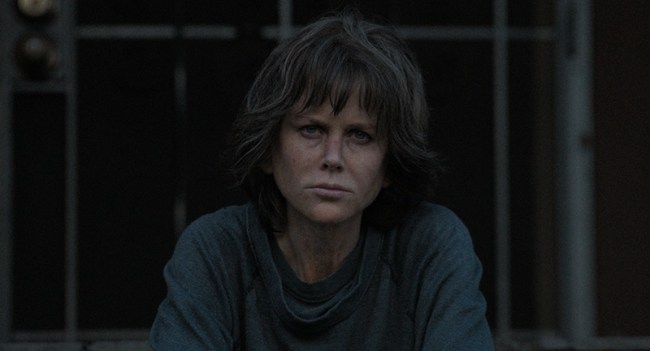 I wasn't quiiiite as taken with The Invitation as a lot of people were, but did have an awesome ending, which is more than enough to make me curious about director Karyn Kusama's latest. Kusama directs Destroyer, which stars Nicole Kidman as an LAPD detective who becomes "a human weapon of escalating vengeance." Haha, Nicole Kidman? That sounds gloriously miscast, but color me intrigued.

Night Comes For Us
Two different movies from The Raid alums? Yes, please. I'm always up for watching Iko Uwais kick people in the face and break their arms and stuff, and to be honest, Mile 22 left me with a serious case of blue balls (blue fists?). Here's to hoping director Timo Tjahjanto (he's from Indonesia!) is better at holding the camera still than Peter Berg.
The Man Who Killed Don Quixote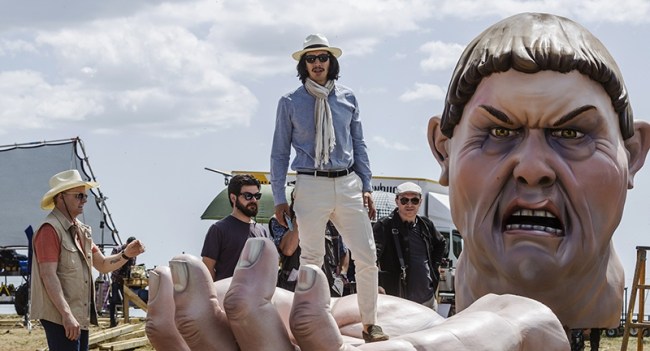 Terry Gilliam's famously uncompleted project has been in hell for so long that the documentary about its failed production came out 16 years ago. I haven't done anything as long as Terry Gilliam has been trying to make this movie. And it's finally here! At this point I feel like we owe it to him to see it, I just hope the theater roof doesn't collapse on us 15 minutes in. It stars Adam Driver now. I like him.

The Bouncer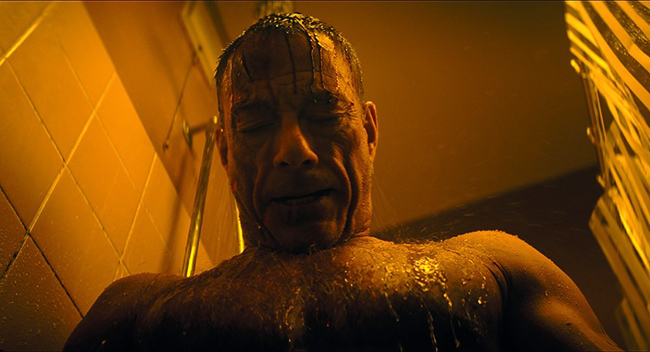 I wasn't as sold on JCVD as a lot of people were, but I still really like the *idea* of a late-career renaissance for Jean-Claude Van Damme. In Julien Leclercq's The Bouncer, Van Damme plays a bodyguard who loses his job and becomes a bouncer, working at "a strip club owned by a Flemish gang kingpin."
Could this be the movie we wanted JCVD to be? I'm willing to find out. I certainly like the sound of Belgian strip clubs with Flemish drug lords. Maybe he kills someone with a waffle iron? Anyway, if I know anything about European films, there's going to be lots of nudity and it will all make me feel weird.
Halloween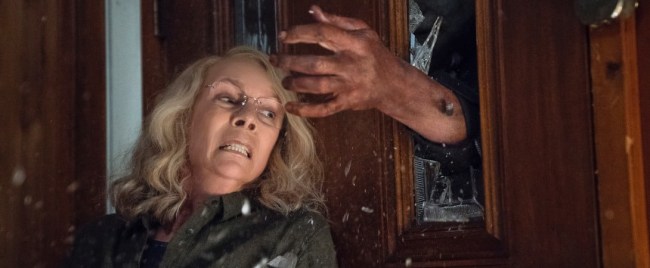 I normally wouldn't be too excited about the umpteenth new version of a 70s horror film, but this new Halloween comes from director David Gordon Green and was written by Green, Danny McBride, and Jeff Fradley. The North Carolina mafia does horror? That sounds just weird enough for me to be intrigued. Supposedly this one is a sequel to the first Halloween (1978), brings back Jamie Lee Curtis as Laurie Strode, and ignores the second one where they tried to make Laurie Michael Myers' sister. It's also being distributed by Miramax (weird that they haven't changed a name so closely associated with Harvey Weinstein, no?) and opens October 19th, so you, the idiot layman, will actually be able to see it fairly soon.