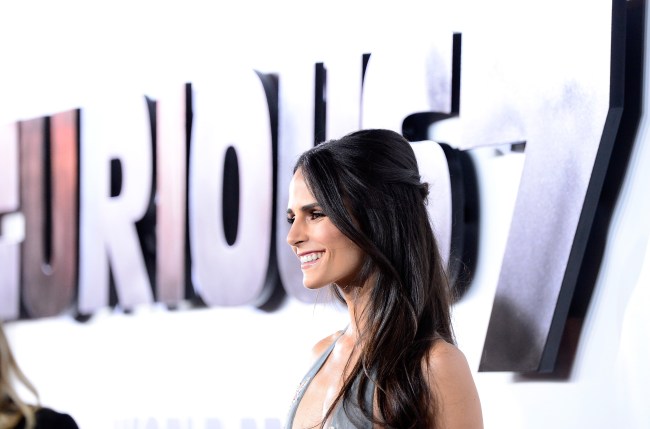 Finally, our long wait is over: Furious 7 is out on DVD. For those of us who were doing life things like traveling for work and buying a house, this is akin to a national holiday of sorts as we can finally see what all the fuss was about all summer. For other (read: most of you), it's a chance to bring home arguably the most fun movie of the season.
The seventh installment is as big as ever, and as part of the rollout for the DVD release, Uproxx had the chance to speak with Jordana Brewster, who plays Mia in the series. She ranks the franchise's badasses, details her relationship to her character, tells us her favorite song from the soundtracks, and more. She also tries to put into words just how hard it is, even today, to deal with the tragic loss of Paul Walker in late 2013.
I've been re-watching the series for the first time – at least the first three – since they were out in theaters. You forget how long it's actually been. When did you realize the franchise was going to blow up and take off?
The opening weekend was a surprise. It was such a small movie, and it turned into something big. The second and third were so different. But when we came back for the fourth one, it seemed like we reinvented it and reinvigorated the franchise, and that's when I realized it really had a life of its own.
Do you feel tied to Mia? Is she a character you love? Or do you feel like you have to sacrifice some personal projects because of how closely associated you are to her?
You don't sacrifice anything because of movies like this. The franchise has been so successful and I've been in it for so long, I feel such a connection to everyone I work with, and even the people who come back over and over, it's just so nice to work with those people repeatedly and develop this character. I feel very lucky. I never get bored with her. We always have new locations, and we never stay in one space. It's so fun. I always feel so lucky to get to play her.
How much do you guys see each other when you're not working on the specific movies? There seems to be such a close-knit relationship between you all. Is it really all about family?
It is! And what's lovely is that I was just a kid when I started out. I was in college. And now, we're parents and we have kids, and the relationships are so different. We go to our kids' plays and baby showers, and we're at such different stages than we were at the very beginning. We do keep in contact, and we do visit each other. It's been great. We try to see each other as much as we can.
What are things like on set? You've got so many big personalities – how much joking around is there?
Tyrese is the big jokester. The Rock is hilarious. There's a lot of downtime and a lot of personalities, so you get some wonderful moments. There's not a lot of seriousness. There's definitely a lot of opportunities to play around and have fun.
Have you re-watched the films at all? How dated do they seem to you?
I watched the first one before starting Five, and I didn't realize how dated it was because it didn't feel like it was so long ago. But then there was the heist of all the TVs off the truck, and those weren't flatscreens. Those were old school, '90s TVs. There are certain things that really date the movie, which is kind of amazing. And we all look like such babies. I mean, now we all look pretty good, but when you go back to the first movie, you're like, "Wow, that was so long ago."
I was laughing because you've got the West Coast Choppers and the Von Dutch shirts, too, and you're like, "Yup, I know exactly which year it is."
Oh, wow. That's so crazy. I never noticed that.
Do you ever wish that Mia got more chances to drive and race? 
That's why Five was one of my favorite movies, I think, because I finally got to be on the road with everybody. The action was definitely fun. The last two, I was also shooting the show Dallas and that restricted me a ton as far as timing. I couldn't be quite as involved, but I would love to be involved in the action a little bit more. But that's part of her character. She's free-spirited, and strong, and to get the chance to showcase that side of her is great.
Were you into cars at all when you first started shooting these, or did the series make you more into them?
I wasn't super big into cars at all. I was more into them on a very superficial level, like how they look instead of how they drive. But now my son is obsessed with cars. I love how it kind of came through in the genetics. It's awesome. He inherited the genes, which is going to be amazing when he realizes that mommy was in these movies.
Do you have a favorite car?
I love my Range Rover because it's strong and big. As far as the franchise, I like the Charger, and I like the bad guys with cars – like that Aston Martin. It's beautiful.
How would you rank these four in terms of badassness: Statham, The Rock, Vin, and obviously Ronda Rousey in the seventh film?
I definitely would say Vin and Dwayne are just about the strongest. I wouldn't mess with them. Although I wouldn't mess with any of them, really. I mean, Michelle [Rodriguez] has always been a badass in the worst way, and Ronda is amazing.
I know you're a fellow former English major like myself. Do you have any books you absolutely can't live without?
I love Virginia Woolf. I'm reading one right now that's really, really good, but I can't remember the name of it right now. I'll have to look it up. I have to read books in their original format, which makes it hard with all the working I do. There are so many people who are reading on tablets now, and I feel like that's unfortunate.
Are there any essays you wrote in college that you remember or that stick out for you?
Definitely one of the ones I did on Woolf back then. I do remember my entrance essay on [Ralph Waldo] Emerson. He just had these nuggets of wisdom that help you. It's so funny that, at 18, you have to pretend to have it all together, which is not very realistic, but I sounded like I had it all together, it was something I aspired to, so I remember that.
Do you have a favorite song from any of the soundtracks?
The latest one, the Wiz Khalifa song, I think is really beautiful. I think it's awesome that it struck such a chord in our culture and on the radio. I think that's really cool.
To go along with that song, how tough is it still today not having Paul? People have responded so strongly to the end of the film, and I think it's because you can see how much you all really do love him.
Everyone that has seen the last one, what people say is they're so happy with the way the movie turned out and the way the movie celebrates Paul. I was really relieved when I saw it because of that. I thought it was so appropriately done. I can't really speak about it all yet because it's still so raw. It really hasn't been that long. I don't know, it's raw. That's all I can say.
Here's an exclusive behind the scenes clip from the DVD featuring the making of that epic fight between The Rock and Jason Statham …