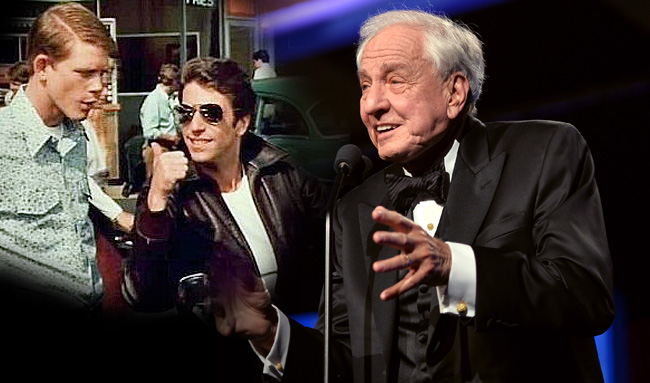 Reports indicate that the legendary Hollywood writer, director, producer, and actor Garry Marshall has passed away at the age of 81. Marshall was involved in a laundry list of blockbuster films and TV shows that pushed the medium into its golden years for over five decades. He was a writer and producer of The Dick Van Dyke Show, The Lucy Show, Gomer Pyle, USMC, The Odd Couple and famously created Happy Days and Mork & Mindy, just to name a few.
In his later years, he found great success as a feature film director with Pretty Woman, Runaway Bride and The Princess Diaries. Despite his many talents behind the came, Marshall also indulged in acting, with roles over sixty-five years in everything from the third James Bond film Goldfinger, Soapdish, A League of Their Own, a recurring role on Murphy Brown and dozens more — Pinky & The Brain, The Simpsons, the list goes on and on. In just the last few years he lent his voice to BoJack Horseman and appeared in a 2 episode run on Louie.
Marshall was inducted into the Television Hall of Fame in 1997, and was a winner of the Women in Film Lucy Award for, "enhancing the perception of women through the medium of television." And it might seem like a lot, but his resume is almost too extensive to list.
Uproxx had the pleasure of speaking with Marshall earlier this year and he spoke a bit about his approach and filmmaking philosophy.
"I have a good time and try to be positive and I think all my movies try to celebrate the human spirit rather than bringing them down or make some negative things," Marshall told us. "We know what the real world is. Not doing so good, the real world. It's better, my made-up world. And we have a better time."