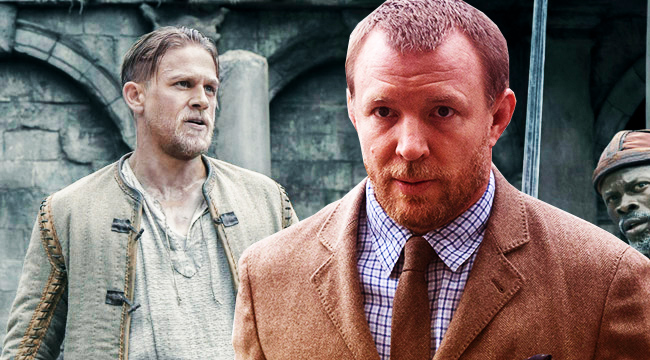 A few weeks ago, Armie Hammer told the story about how he asked The Man from U.N.C.L.E. screenwriter Lionel Wigram to write a sequel to the 2015 film that underperformed at the box office, but has found a new life over the last few months thanks to cable and streaming. Now, when I brought this up to Guy Ritchie (who directed the 2015 film and is currently promoting King Arthur: Legend of the Sword), I expected him to have a fairly good idea of what was happening in that department. Instead, he looked genuinely confused and couldn't understand why anyone would want to see a sequel to a movie that underperformed like The Man From U.N.C.L.E. did. What follows is me trying to explain to Ritche, who really did love The Man From U.N.C.L.E, that his movie has gained a lot of popularity over the last few months and has a dedicated fan base. And honestly, I'm not convinced he believed me.
Ritchie's King Arthur: Legend of the Sword is not what you'd expect from a King Arthur movie. Starring Charlie Hunnam as Arthur, it's a film that takes the general premise of the early years of King Arthur and gives it that Guy Ritchie twist. There are multiple scenes with heavy, quirky dialogue and a couple of interesting ways to present exposition. (In one scene, Arthur tells a story in flashback, but is constantly interrupted, which creates a frenzy of a flashback scene; in another, Arthur takes us through a hypothetical situation, only it's acted out in front of us in a strange, meta way.) In other words: This is very much a Guy Ritchie King Arthur movie.
Ahead, Ritchie explains what he wanted out of a King Arthur movie. He also gives us a hint of what we might see out of his upcoming live-action Aladdin film. And, yes, I do my best to convince him that a The Man From U.N.C.L.E movie is a good idea.
There's a lot in this movie I didn't expect to see in King Arthur movie.
I mean, we were just looking at the amount of King Arthur movies. There haven't been that many, you know? There isn't a definitive King Arthur movie. I mean, probably Excalibur is the most known, I would have thought. But so yeah, you feel as though you might be familiar with it, but you're not really. The only thing that I've seen is Excalibur. I haven't seen any other King Arthur movies.
We've read the books. We have those images in our head.
Yes, that's true. There's a bit of that creeping around.
And I don't remember a scene – like the quirky one where Arthur tells a story with flashbacks and is interrupted and keeps starting over – in the books.