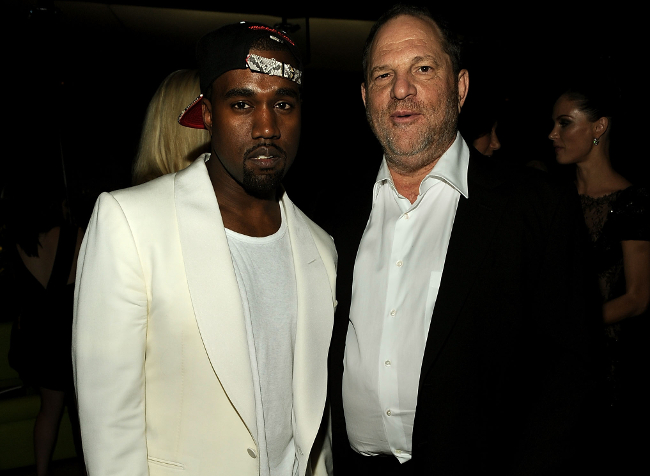 Kanye West has already left his mark on the rap world and music industry, and one day his leather sweatpants will eventually change some minds in the fashion game. After that, he'll need a new creative frontier to conquer, and it would definitely liven up the Oscars if he interrupted Daniel Day Lewis' Best Actor speech to let everyone know that Channing Tatum deserved to win for Jupiter Ascending 2. Already with a short film and a producer credit for Loisaidas under his $10,000 belt, West has ambitions for feature films and cinematic art at the highest level, and now he has at least one Hollywood heavyweight (in terms of power and not figure) backing him.
At first, Harvey Weinstein joked when the Confidenti@l asked him about West's chances as a filmmaker, saying that he'd instead become a rapper, but then he gave a ringing endorsement for the rapper to make the move.
"I'm excited," Weinstein said. "He'll be great. I've known Kanye a long time. I'm kidding about the rap. He's going to be a great film maker. He really is good."
The aforementioned Loisaidas, an 8-part film series released online, was also produced by Dame Dash through his film company, and he too thinks that West should focus his creative efforts on film. However, he doesn't think it should just be behind the camera.
"Hopefully, Kanye will want to get creative and jump in as an actor or director or anything he wants," Dash tells us. "The only thing I don't want to do with him is music, because we've already done that."

He added it would be "too obvious, there's no heart in that. There's an expectation when Kanye and I do something. It has to be different, it has to be authentic." (Via Page Six)
The very ambitious Dash also said that his motivation is eliminating the "nerds cutting checks" and middlemen to tell his "many authentic stories." He claims he will go "after Quentin Tarantino, Martin Scorsese, Wes Anderson and Woody Allen. I'm going after Harvey Weinstein." So I'm guessing a collaboration between West's two biggest movie supporters is already out of the question.