Hugh Jackman surprised the crowd at Comic-Con during Fox's comic book cavalcade, joining X-Men: Apocalypse director Bryan Singer on stage to talk a bit about his final run as Wolverine on the big screen. Rumors have been spreading about Jackman's status as the character, including his flip flop on the idea of playing the character for life. His appearance here doesn't do so much to reveal any big developments, but it does confirm a lot of those rumors.
Jackman addressed the crowd before any of the crowd took the stage according to Indiewire, allowing him the slight moment to soak in the attention and introduce Logan's final act (or acts):
He confirmed to the audience that the Untitled "Wolverine 3" would be his last offing as the character Logan (as he's said umpteenth times), but director Bryan Singer let it slip that Jackman would likely have a cameo in 'Apocalypse' (as you pretty much expected. As for that third Wolverine. "Three words," Jackman said, "Old Man Logan," essentially teasing and confirming rumors that said "Wolverine 3" will feature a storyline that features an older Logan (while a mutant who has super healing powers, Logan does age, just very slowly).
I do still refuse to call this film Wolverine 3 and would rather call it The Wolverine 2 or, now, just Old Man Logan. If you haven't read Mark Millar and Steve McNiven's original Old Man Logan story arc or the current Secret Wars iteration, the story follows Wolverine in a post-apocalyptic America where the villains have won and defeated the heroes in a massive fight across the country. All of the states are carved up among villains, there's an inbred Hulk clan (because She-Hulk was the only gal who could survive a Hulk birth), A dinosaur with an alien symbiote, and a Wolverine that refused to pop his claws for tragic reasons. Even if you hate Millar's stuff, it's a fun Marvel story.
I'm not entirely sure how Wolverine would play into Apocalypse given the ending of Days of Future Past. He's not going to be the Wolverine we are familiar with if he does appear and it would seem that we've already got a pretty stuffed cast. What could happen is a slight tie-in with The Wolverine 2 with some sort of Apocalypse time travel shenanigans, to possibly give some sort of explanation for why we're suddenly in the post-apocalyptic world of Old Man Logan. No word on if there is some secret cameo with Deadpool, but Jackman did get to hang out with Ryan Reynolds on stage for a bit.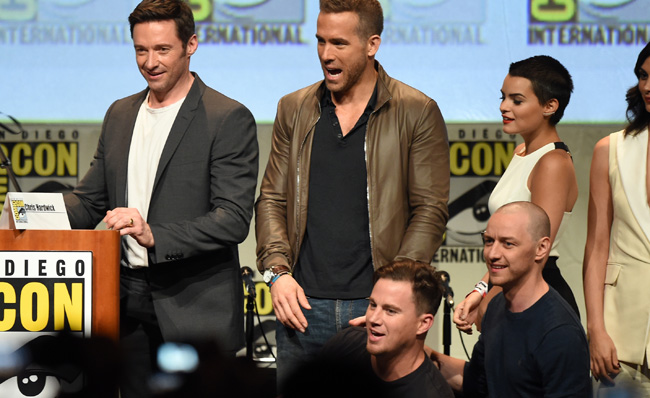 (Via Indie Wire)