One of the most exciting things to come from Comic-Con this year was Marvel giving fans an even better look at what we can expect from Guardians of the Galaxy Vol. 2.
The film's presentation at Hall H was like a mini-variety show with extras dressed up as aliens and even some cast members coming in full costume and character — but the biggest news we were treated to was all about new addition Kurt Russell and his role in the movie. By now it's no secret that Russell is Star Lord's father and his character is fueling the action in the upcoming sequel. We also learned the name of Russell's character — Ego. Spoiler alert: Ego is an actual planet. If that blows your mind, director James Gunn took to Facebook to explain a bit more about his decision to make Russell a celestial body in the movie.
Even more interesting than revealing new characters and potential storylines was Gunn's penchant for sharing stories from the set, particularly one concerning Russell and how he came to play eye-patch sporting tough guy Snake Plissken in the dystopian action flick Escape from New York.
Gunn told Vulture about the time an overly chatty Russell let slip how he scored the role of the beloved bada** and the tale is peak Kurt Russell.
I think my favorite Kurt [story] — and there's a lot of them, because he tells a lot of stories, he's a very talkative, Chatty Cathy — but there's a story where I was grilling him about Escape from New York. He was telling me about how, when he had the screenplay for Escape from New York, the studio heads were like, 'Hey, we don't wanna make this movie because this guy isn't likeable! How is anyone ever gonna like this guy?' And he says,'Cause I'm gonna play him! And I'm an innately likeable guy! I don't know why! Just everybody likes me!' And that's Kurt Russell.
Here's hoping Russell brings back the eye patch, or at least utters the line "I'm an innately likeable guy" sometime during Guardians of the Galaxy Vol 2. That sounds like something Star Lord's dad would probably say, right?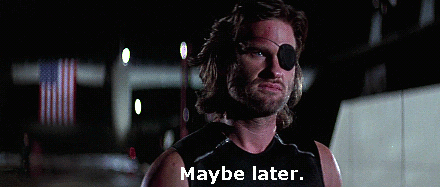 (Via Vulture)