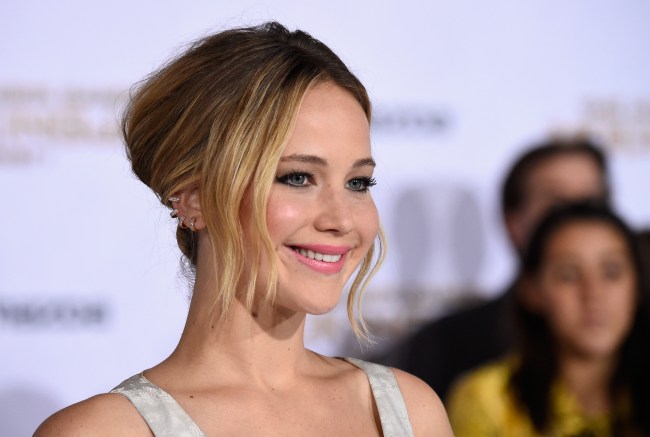 Like Emma Watson, Kristen Stewart, and Amanda Seyfried before her, Jennifer Lawrence has shared her feelings on Hollywood sexism.
They are: "F*ck that."
Lawrence wrote an article for Lena Dunham's feminist newsletter titled, simply and bluntly, "Why Do I Make Less Than My Male Co‑Stars?" It's a good question, considering she's one of the biggest stars in the world, an Oscar-winner, writing a screenplay with Amy Schumer, and the face of two blockbuster franchises. And she's mad that she doesn't have an answer.
When the Sony hack happened and I found out how much less I was being paid than the lucky people with dicks, I didn't get mad at Sony. I got mad at myself. I failed as a negotiator because I gave up early. I didn't want to keep fighting over millions of dollars that, frankly, due to two franchises, I don't need. (I told you it wasn't relatable, don't hate me). (Via)
She's speaking out now, though, because she's done with "trying to find the 'adorable' way to state my opinion and still be likable," which is the only thing I disagree with Lawrence about. As if she could ever not be likable.
F*ck that. I don't think I've ever worked for a man in charge who spent time contemplating what angle he should use to have his voice heard. It's just heard. Jeremy Renner, Christian Bale, and Bradley Cooper all fought and succeeded in negotiating powerful deals for themselves. If anything, I'm sure they were commended for being fierce and tactical, while I was busy worrying about coming across as a brat and not getting my fair share. Again, this might have NOTHING to do with my vagina, but I wasn't completely wrong when another leaked Sony email revealed a producer referring to a fellow lead actress in a negotiation as a "spoiled brat." For some reason, I just can't picture someone saying that about a man.
It's a powerful statement, although its impact is slightly undercut by the story beneath it: "Toking Up at a Baby Shower." Stoners are the real victims in life. They only make $4.20 to every non-stoner's $10.
(Via Lenny Letter)