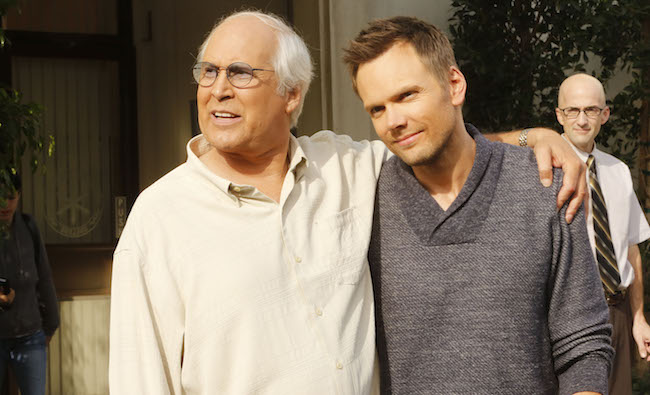 Netflix is currently in the early stages of producing a movie about the tragic life of National Lampoon co-founder Douglas Kenney. Last Man on Earth star Will Forte is set to play Kenney in the film, titled A Futile and Stupid Gesture, an interesting casting decision that should give Forte a chance to flex the dramatic muscles he showed off in Nebraska. The latest bit of casting is interesting because… it's just interesting: According to The Hollywood Reporter, Joel McHale is closing a deal to play one of National Lampoon's most famous stars, Chevy Chase.
Why is this interesting? Well, because McHale and Chase starred on Community together for a few seasons before Chase left under circumstances that were, uh, also interesting. You remember, right? There were explosive voicemails, and public feuds with the showrunner, and allegations of racial slurs being used, and so on. It was a whole thing.
And when it was all blowing up, McHale was more than happy to discuss it in the media. He went on Howard Stern's Sirius show a few years ago and talked about how Chase "didn't want to be on the show anymore" at the time things were getting ugly, about how Richard Pryor allegedly gave Chase a pass to use the n-word (according to Chase), and about how Chase would try to "physically fight" him when he would push back on any of the issues the cast and crew had with all of it. So there's also that. In hindsight, with all the action taking place behind-the-scenes, you could make a pretty good argument that Community might have been a better drama than comedy.
But anyway, yes. The casting. Given all he's seen firsthand, the choice of McHale to play a young Chevy Chase looks both quite inspired and quite obvious. And quite… interesting.