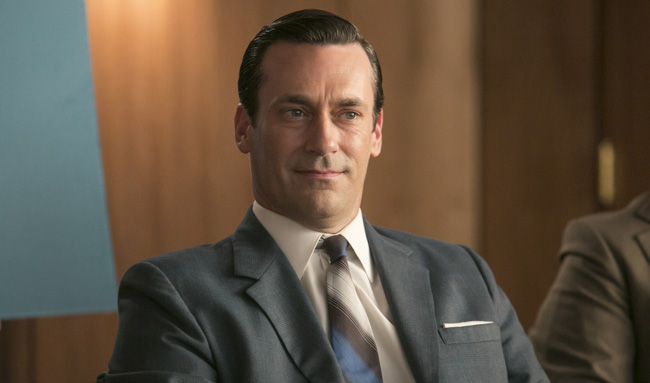 On the same day that we lost Henry Cavill as Superman, The Hollywood Reporter went and revealed Jon Hamm isn't above playing his frenemy, Batman. (Or are they just friends now?)
Talking to Graham Bensinger for his In Depth interview series, the Mad Men alum perhaps inevitably wound up talking comic books. That's when he piped up about how he's kind of into playing Bruce Wayne and his crime-fighting alter ego — with a small caveat, perhaps because he noticed the DC Extended Universe is currently having some issues (see: aforementioned Cavill news, an underperforming Justice League, etc.).
"It depends on the script, what the story is," the former Don Draper said. "I am a huge comic book fan, always have been. I've read comic books since I was 9 or younger. And I'm pretty knowledgeable about a lot of them. And I like the genre, and I like when they're done well."
Granted, no one's actually officially asked Hamm to play the Caped Crusader. But since we're still not sure if Ben Affleck, who's donned the mask for three films is returning to the role or not (despite having a fan in longtime bud Kevin Smith), surely someone with seven seasons of playing dapper and messed-up wouldn't be a bad replacement. Of course, this is only at the speculation stage.
"I have never had a conversation with anybody about it, literally," Hamm said. "And I've sat in the room with all these guys. I have never been offered anything. I think the internet wants what it wants. But, I mean, a lot of people have to sign off on that, obviously not just the internet."
Still, the internet isn't always wrong. It would be like if Don Draper ditched the ad world and became a super-rich crime-fighter with a thing for bats. Hamm seems to agree that it's a no-brainer, too.
"I'd probably fit the suit," Hamm also said. "I'd have to work out a lot, which I don't love. But, I am sure there's an interesting version of that being out there. And if they wanted to tap me on the shoulder and ask me to do it, why not?"
(Via THR)