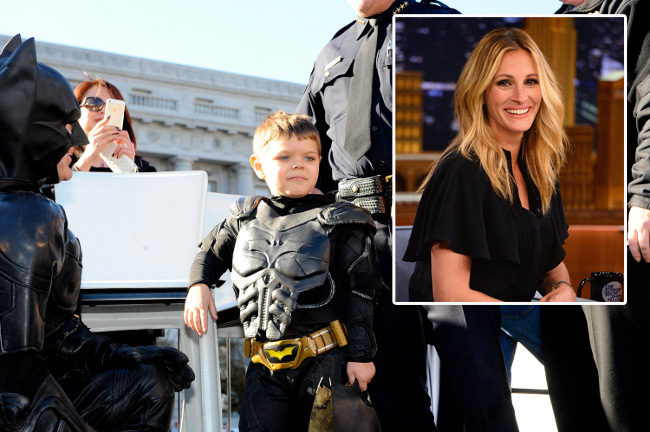 Batkid was the kind of viral phenomenon that manages to take off with loads of attention and do a little good in the process. The story of Miles Scott's Make-A-Wish dream come true captivated readers and inspired a documentary surrounding his unprecedented day "saving" the city of San Francisco. Now that documentary is about to become a feature film thanks to Julia Roberts.
Roberts is producing and starring in the film, most likely as Batkid's mom but I could be wrong. Here are the details from Variety:
Roberts will produce alongside partners Lisa Gillan and Marisa Yeres Gill through their Red Om Films banner. Nachman will serve as executive producer with Josh and Dan Braun of Submarine under Submarine's new remake label Sub/Version, which is launching at Sundance.

"It's thrilling to me that Ms. Roberts and her team watched our film and were so moved by it that they want to dedicate their time and creative capital to make sure the widest audience possible will know and love Miles' story and the spirit of this intimate special event that went global, as much as we do," said Nachman.
This was a no-brainer really, even if it's overkill at this point. This story had legs with a film behind it and people will guzzle down whatever sugary concoction Hollywood can throw at them. I just wonder if it'll use Batman as the central premise? Will we have to start calling him Generic Hero Kid because Warner isn't involved? Maybe just bust out the Turbo Man suit from Jingle All The Way and go with that. Kid is a big fan.
(Via Variety / The AV Club)