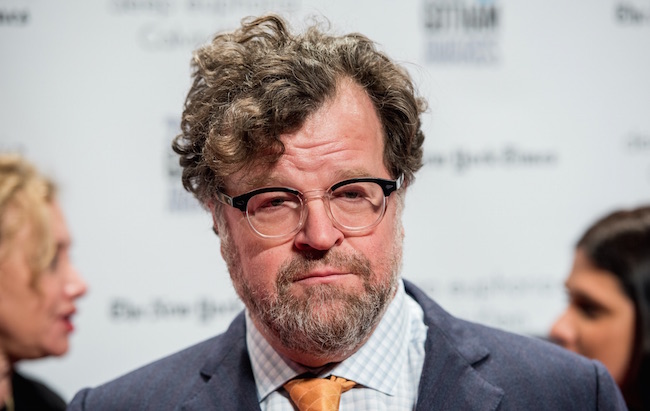 On Monday afternoon, at a banquet thrown by publicist Peggy Siegal, Amazon Studios, and Roadside Attractions for the film Manchester by the Sea, director Kenneth Lonergan and star Casey Affleck (who later that night would win Best Actor at the Gotham Independent Film Awards) held court at Manhattan's Bistro Milano.
We spoke to Lonergan at length recently about Manchester by the Sea – which is now very much part of the Oscar discussion – but we got to speak with him again briefly on Monday in the midst of all this awards madness.
In almost every review of Manchester by the Sea, it's usually noted that for such a grim film, it's also very funny. This was also a topic brought up for Lonergan and Affleck during the lunch. And it's true: Manchester By the Sea is funny. But it also shouldn't be that surprising that the writer of Analyze This can write humor. Though, Lonergan is quick to correct me, "I only wrote the first draft of that, which was rewritten 14 times."
But after dealing with a movie with such morose storylines, would he consider doing a pure comedy again? "Well, I did a play called Hold On to Me Darling here last year," says Lonergan. "Which was pretty much a comedy even though it had a sad ending. But it was much more of an overt comedy. Yeah, I still like doing that."
Lonergan does worry that his reputation (that people like me help create) might preclude him from doing that, "It's weird, you do a couple of things and people start saying things about you, you start to identify yourself with what's said about you."
When I asked Lonergan what he meant by that, he put it more bluntly, "I'm worried if I do a comedy people will want it to be naturalistic and people will be mean to me. So I get chickenshit about it." Then adds, "I like comedy a lot actually, why not?"
But does he like all this fuss that surrounds his film? Now, it is always nice when people like something (and especially after the long delays he experienced with Margaret), but Lonergan doesn't strike me as a person who just loves doing the press tour, having to answer questions like these from schmucks like me.
"It's better to have the movie supported and have people like it and see it and have it be a presence in the world," says Lonergan. He continues, "I don't love talking about myself over and over. A little bit is fine. A medium amount is fine. I do worry a little bit, it doesn't serve me creatively to be that self-analytical when you're talking about your film, which I absolutely want to do because I want to support it. I find myself noticing things about myself that I'd probably be better off keeping under wraps. I don't want to be at home, 'Oh, here I am doing what I just described at Cipriani last night when I was talking about myself.'" Lonergan then smiles, "Other than that, it's great."