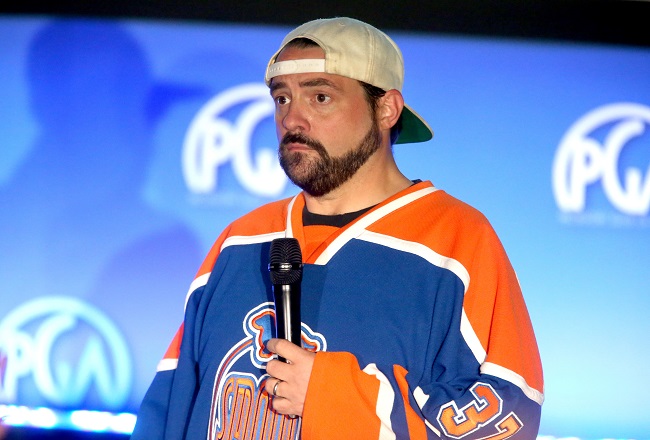 Kevin Smith is a very busy man. He's wrapping up production on a new film, Yoga Hosers, a spiritual sequel of sorts to Tusk. In addition, he's already hard at work on a Mallrats sequel tentatively titled Mallbrats, and many other films and projects have also been announced. Yet, despite the big man's impressive work ethic (what with new scripts and podcasts), he has still found time throughout his career to occasionally appear in other people's projects.
To celebrate the love-him-or-hate-him film auteur's 45th birthday, we've put together a list of some our favorite Kevin Smith cameos and thespian-like efforts.

Southland Tales
Richard Kelly's failure of a second film is memorable for numerous reasons, not least of which is Smith's small role as Simon Theory, a veteran of the Iraq War who lost his legs in combat. Aside from the literal fact that he has no legs, Smith is almost unrecognizable due to all the fake hair, prosthetics, and makeup Kelly had him buried under. The character's constant drug use, however, reminds the audience that it's Kevin under there all along.

Big Helium Dog
By the time View Askew's Big Helium Dog hit the festival circuit in the late '90s, Smith was already famous for Clerks. Brian Lynch's film about a struggling comedy troupe features the cult director playing a director, and his scenes with Michael Ian Black's character are some of the indie film's best. Fun fact: aside from Smith and the View Askew crew, Big Helium Dog also features members of the Broken Lizard crew — Kevin Heffernan, Jay Chandrasekhar, Steve Lemme and Erik Stolhanske.

Scream 3
Despite Smith's gradual branching out during the early 2000s, he couldn't help but make the occasional cameo as his own character, Silent Bob in the films of others. Such was the case for Scream 3, in which he and Jason Mewes briefly played their iconic Clerks characters in a short exchange with Courtney Cox on a Hollywood film set. It's a silly, throwaway, hey-look-who's-here kind of scene, but at least neither Silent Bob nor Jay get the knife, so at least there's that.