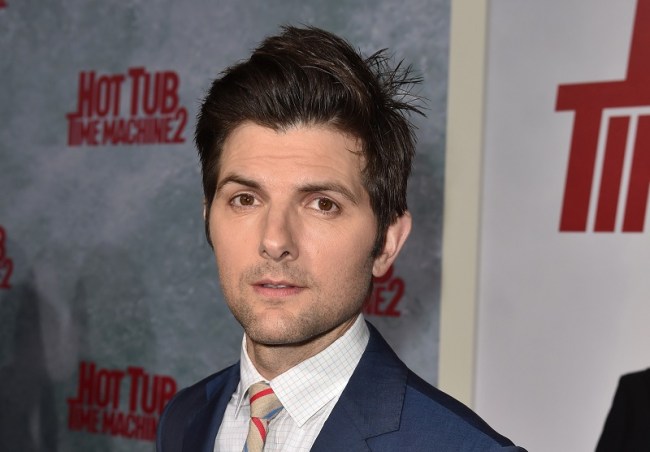 If you asked Santa for a Krampus movie this past Christmas and ended up sorely disappointed, I have some great news for you. A Krampus movie is, indeed, being made and it's going to star the one and only Adam Scott. Krampus, which is expected to be shot this spring in New Zealand, is a Christmas-themed horror movie about a family who faces an attack by the storied German Christmas demon. Scott is playing the father, Toni Colette will play his wife, and Emjay Anthony (Chef) is playing their son. And because we've been such good boys and girls, Fargo's Alison Tolman is playing Colette's sister-in-law!
For the uninitiated, Krampus is the German Christmas demon who was created as an evil foil to Santa Claus and punishes bad children by hitting them then kidnapping them.
Here are The Hollywood Reporter's descriptions of Scott's and Colette's characters:
Scott will play the father, a workaholic and rather absent dad who has to step up for his family.

Collette will play the mother, a woman who pretends everything is perfect with her family via her elaborate meals but will also have to dig deep to protect her family.
The director of Krampus is Michael Dougherty, who is no stranger to holiday-themed horror movies as the writer and director of Trick 'r' Treat (he also wrote 2006's Superman Returns and X-Men 2, so he works with Brian Singer a lot). Dougherty co-wrote Krampus with Todd Casey and Zach Shields. So just to be clear, this is not Kevin Smith's Krampus movie, it's a different one. Though since it's a horror movie being shot in New Zealand, it might be kind of nice if they gave Peter Jackson a call.
As both a German and huge lover of Christmas and wicked children being slapped, I'm psyched about this no matter how it turns out. But for goodness sake, they really should find a part for Anthony Bourdain.
Source: The Hollywood Reporter