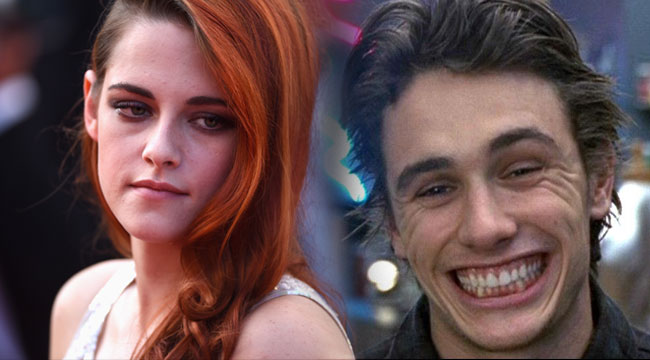 In 1999, author JT LeRoy published the novel Sarah and took the literary world by storm. A former street urchin, addict, and prostitute, the vocally transgender LeRoy alchemized his tragic experiences into prose of searing tragedy and brutal truth. Lightly autobiographical, Sarah centers on an unnamed narrator and his West Virginia trailer-park prostitute mother, and his struggles to earn her love as she gives in to the dysfunction in her life. LeRoy cemented his reputation as a crucial new literary voice with the short story collection The Heart Is Deceitful Above All Things and the novella Harold's End, even dabbling in Hollywood with contributions to Gus Van Sant's award-winning film Elephant. While presenting as androgynous, LeRoy would make public appearances to a rapidly growing fanbase, which would come to include Winona Ryder. So, it came as something of a surprise when LeRoy turned out to not be a real person.
An item in the Hollywood Reporter reveals that James Franco, Kristen Stewart, and Helena Bonham Carter will star in the stranger-than-fiction story of the JT LeRoy hoax along with its architects Laura Albert and Savannah Knoop. Albert had dreamt up LeRoy as an "avatar" for her writing, a persona that would allow her to say things she otherwise would have been unable to. The writer enlisted Knoop as the Bob Zmuda to her Andy Kaufman, sending her to appear as LeRoy for reading gigs and to represent her in the public eye. A New York magazine article in 2005 outed LeRoy as an elaborate ruse, and shortly thereafter, the literary world at large turned on Albert and Knoop, though some hailed "LeRoy" as a subversively conceptual exploration of issues of identity and gender. (That "some" included Smashing Pumpkins frontman Billy Corgan, who admitted in a Rolling Stone article that he had known the entire time about Albert's prank and likened it to being in the "Magic Kingdom.") (The LeRoy story also serves as the subject of the forthcoming doc Author: The JT LeRoy story, which was well-received at Sundance this year.)
The trio of actors will recreate this bizarre saga with director/writer Justin Kelly, who most recently collaborated with James Franco on last year's I Am Michael, a film about gay activist-turned-hetero pastor Michael Glatze. Though the roles each actor will play have yet to be announced, the odd, complicated JT LeRoy myth should suit Franco nicely, what with his running preoccupation over issues of identity and personhood. But between the buzzy cast, a timely subtext (transgender issues have been anointed the final frontier of civil rights), and a hooky premise, this could be a fascinating project.
(Via the Hollywood Reporter)