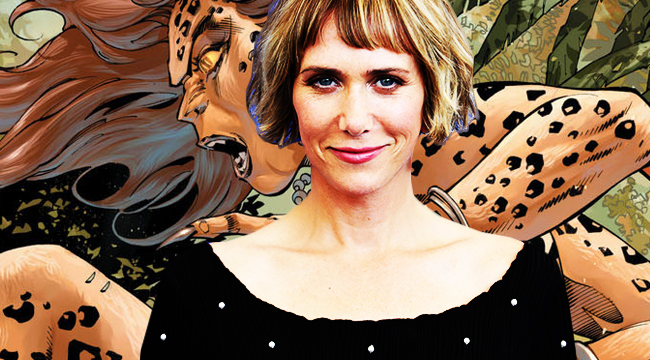 By this point, it's kind of cheap to go back and find message board comments reacting to the news that Heath Ledger had been tapped to play The Joker in The Dark Knight, which I just did. First of all, thinking back, it was kind of a crazy choice. It's funny to read through now and see people say things like, "Aw, man, this sucks, I was hoping for Robin Williams or Crispin Glover." And it's funny because a lot of these message boards also have people coming back years later to post things like, "Well, I guess we were wrong."
But the reason it's cheap is because it's the one perfect example of this kind of situation (well, ignoring what happened to Ledger in real life, which we are doing): Hire an actor you would never think of for the role of a famous villain, people freak out, actor wins an Oscar for the performance. You see, that's only happened once. But the reaction today that Kristin Wiig will play Cheetah in the second Wonder Woman film is reminding me of the initial reaction to Ledger. And who knows how it will eventually play out, but bold and unique choices are good and this is certainly a bold and unique choice.
Look, sometimes bold and unique choices don't always work. I loved it when Jesse Eisenberg was picked to play Lex Luthor. It was new and refreshing! Then Zack Snyder decided Lex Luthor would fight Superman with a jar of his own piss. (This really happened.) That's not Eisenberg's fault. (At least, I don't think it is. If Jesse Eisenberg was on set and said, "Hey, I have an interesting idea involving urine," I don't think I want to know.) So, no, that one hasn't panned out yet, but nothing worked in Batman v Superman: Dawn of Justice. (Also, this is a movie that killed Jimmy Olsen by shooting him in the head execution style.) And I still think there is a director out there who will find something interesting to do with Eisenberg's talents. So, I haven't given up on that yet, but I also realize these kinds of offbeat choices don't always work out and this paragraph is here to stop people from tweeting these sorts of examples at me.
But there's a big difference here: After the near-universal acclaim for Wonder Woman, Patty Jenkins, like Christopher Nolan before her with Batman Begins, has more than earned the benefit of the doubt. (Snyder was coming off of the mixed reaction to Man of Steel.) Obviously Nolan – who had already made a great Batman movie – saw something he liked in Ledger's version of The Joker. And now Jenkins – who has already made a great Wonder Woman movie – obviously sees something in Wiig for Wonder Woman's archenemy.

Wiig's reign over SNL from 2005 to 2012 was so overwhelming, even now people have a hard time not thinking about her in those terms. (Also, can you believe Wiig has now been gone from SNL for almost the same amount of time she was on the show?) When Wiig was on SNL she dominated the airtime like few other cast-members not named Murphy or Ferrell. Consequently, she's still thought of first for playing kooky characters like Penelope or Gilly as opposed to a whole host of stuff she's done that's not "kooky."
What's weird is, even in her most successful film, Bridesmaids, she's basically playing the straight role. She has a couple of moments, but she's surrounded by a cast of weirdos as she navigates a character with more depth and drama than we're used to from Wiig. The other problem: the movies that might lead one to believe Wiig is a great choice for Cheetah, well, frankly, not many people saw those. Wiig is wonderful in movies like The Skeleton Twins and The Diary of a Teenage Girl and even Welcome to Me. Combined, these movies grossed a little over $8 million. Wiig is a great actor, even away from comedy, but few people have seen that firsthand, other than in smaller, less interesting parts like in The Martian.
Anyway, my point is I like this choice. Not because I think Wiig is perfect for Cheetah – I, like you (unless you are Patty Jenkins), have not seen Wiig's audition for Cheetah – but Wiig is such an offbeat choice, who knows what we will get out of this? It's the Heath Ledger factor: we've never even considered Wiig for a role like this before, which is why it's a little bit shocking, but that's also why it's pretty exciting. Look, fan casting can be fun. We've all done it, but it's often littered with way too obvious choices – because no real actors actually show up for our fan casting audition for a chance at a spot on an internet list. And, again, if Patty Jenkins thinks Wiig is the right choice, well then Wiig is the right choice.
You can contact Mike Ryan directly on Twitter.