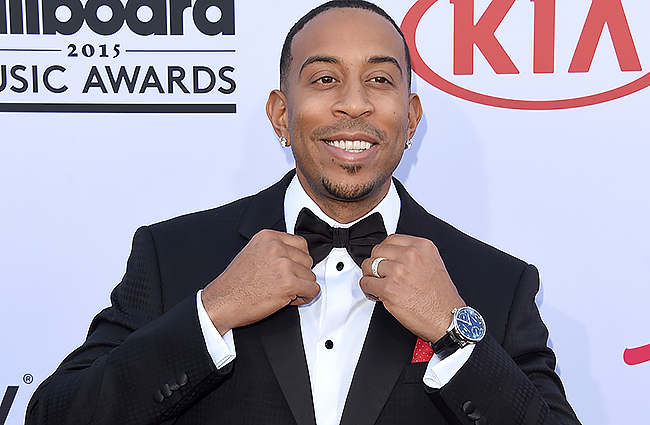 The career of Ludacris is a lesson in adaptability. Chris Bridges has gone from local DJ to pumping out hits to making bank off guest verses to bona fide movie star, and along the way, he's maintained his sense of self. He's still Ludacris. And there's something comforting about that.
Fresh off the Furious 7 DVD release, Luda was the grand marshal at the Furious 7 300 race in Chicago over the weekend. We had the opportunity to ask Ludacris some questions we've been dying to know the answers to for a long time, and he was predictably great.
Did you get to keep the arms from the "Get Back" video?
[Laughs.] Man, that's a good question. No, I don't think I did. They were expensive as hell. I had to give them back.
What's the most fun you've had shooting a video?
Probably that "Get Back" video. For sure, man. It was way too much fun. That was damn near like a movie.
Have you ever thought about bringing back the afro from the 2 Fast 2 Furious and the Chicken-n-Beer days?
Absolutely. I actually said in a song I started missing it, but then as soon as I almost grew it all the way back, I started missing my fade, so I cut it all off. The song is called "Grass Is Always Greener." All my fans convinced me to grow my hair back, I grew it back, and started missing my fade.
How much training did you do for your fight scene in Furious 7?
Man, we trained for, like, it's something I do on a regular basis. It's actually, my guy right there, his name is Diallo Frazier. He trains me in his martial arts called 52 Block. We had been training, just literally for the art of it, and for the movie, we trained a month or so before.
Did you have to lobby at all to get a fight scene?
I definitely had to go and tell them that I wanted a fight scene because I was the guy behind the scenes all the time and the tech guy. I was like, I want a piece of the action. So I showed them what I'd been doing for two years with [Frazier], and I kind of put it on tape as like a demo reel. I showed it to them and they liked it so much, they were like, We're going to incorporate this into the movie.
When you did 2 Fast 2 Furious, did you think it would be a one-off acting gig, or were you hoping it'd lead to other roles?