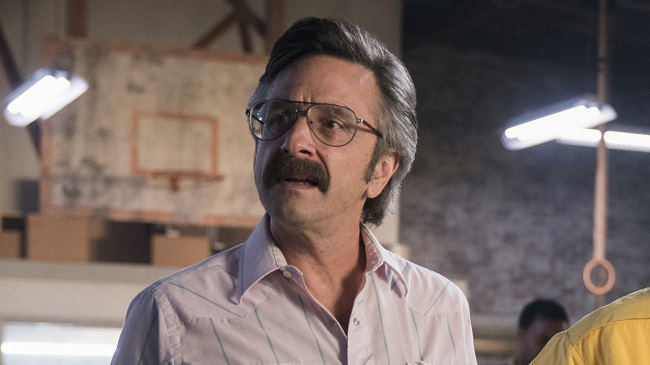 Earlier this week it was reported that Marc Maron is being sought after to be in the Joker movie that will star Joaquin Phoenix as the Clown Prince of Crime. There's some not at all concrete speculation that Maron would play Commissioner Jim Gordon and the idea of this delights us to no end. First of all, Maron has been pretty darn great on Glow. Secondly, Maron has been pretty adamant that he hates superhero movies, so that makes his inclusion inherently interesting.
And third, it's impossible for us to stop thinking about Maron playing Gordon just kind of as himself and what those interactions with Joker would be like – so much so that we went ahead and imagined their whole first meeting because why not? (And if Marc Maron happens to read this, please know this is all in a good fun and we do hope you get to be in the Joker movie because we'd love to see any scene that looks anything like this.)
(Also, you're welcome, nobody.)
INT. GOTHAM CITY POLICE DEPARTMENT
The criminal mastermind known as JOKER has been captured. As JOKER awaits interrogation, those interrogating duties fall upon on the one and only COMMISSIONER JIM GORDON. If anyone can get to the heart of JOKER'S devilish persona, it's the unique interviewing techniques of JIM GORDON. As JOKER waits, JIM GORDON enters the interrogation room.
JOKER
HA HA I'M THE JOKER!
JIM
How ya been?
JOKER
IF I WEREN'T CRAZY I'D BE INSANE! HA HA!
JIM
So where did you grow up?
JOKER
YOU EVER DANCED WITH THE DEVIL IN THE PALE MOONLIGHT?
JIM
Did you ever make it to New Jersey?
JOKER
I HAVE A SURPRISE FOR GOTHAM CITY HA HA!
JIM
What was your relationship with your old man like? Did you two get along?
JOKER
YOU REMIND ME OF MY FATHER. I HATED MY FATHER!
JIM
So how did you get involved in comedy?
JOKER
WHY SO SERIOUS?
JIM
Do you go for the more antagonistic stuff? Like Kaufman?
JOKER
I'M NOT A MONSTER … I'M JUST AHEAD OF THE CURVE!
JIM
So maybe more into Don Rickles? Did you listen to a lot of Carlin growing up?
JOKER
FOOL!
JIM
Who were your guys?
JOKER
I WILL KILL THE BATMAN HA HA!
JIM
Do you know Attell?
JOKER
THE BATMAN!
JIM
What was your SNL audition like?
JOKER
[Puts on glasses] YOU WOULDN'T HIT A GUY WITH GLASSES WOULD YOU?
JIM
I have to take a quick break to tell you about the great folks at Stamps.com. Do you hate going to the post office, Joker? Well instead of robbing the post office, you can get your stamps at Stamps.com and use the promo code "CommissionerJG." Did you meet Lorne?
JOKER
I'M AN AGENT OF CHAOS!
JIM
I've had 25 years of neurosis since my audition. Lorne and I finally hashed it out.
JOKER
AND I THOUGHT MY JOKES WERE BAD HA HA HA!
JIM
What do you think of these superhero movies? I think they are pretty terrible and something is wrong with you if you like them.
JOKER
SOME MEN JUST WANT TO WATCH THE WORLD BURN! HA HA!
JIM
Well, we're out of time, Joker. I hope you'll do this again some time. I've been trying to get you in here for a long time.
JOKER
LET'S PUT A SMILE ON THAT FACE!
JIM
Okay, bye bye. [Guitar riff outro music.]
JIM GORDON addresses the camera.
JIM
Well, there he was, the Joker. What an interesting dude. I'm glad he finally agreed to talk to me. I hope you enjoyed our conversation as much as I did. And don't forget about Simplisafe home security. If you want to keep criminals like Joker out of your house, Simplisafe will be ready. Check it out. And don't forget to watch GLOW.
You can contact Mike Ryan directly on Twitter.