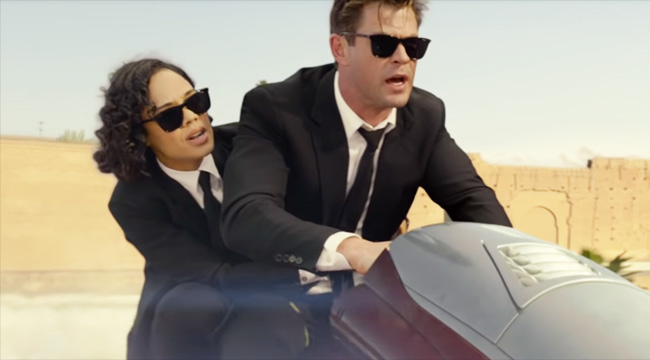 Wide releases went zero for three this weekend with two of those openers continuing the summer's franchise-fatigue trend. For better or worse, with the number of entertainment options available at home, the threshold for summer movies has been raised, and it takes more than a familiar property and a few recognizable stars to sell a movie. The film actually has to be good, too.
Unfortunately, while I still maintain that Chris Hemsworth and Tessa Thompson can be a potent combo (see Thor: Ragnarok), their previous onscreen chemistry did not translate into Men in Black: International, which opened with a meager $28.5 million, even less than last week's box-office bomb, Dark Phoenix ($32 million). Reviews for the F. Gary Gray film were not kind (25 percent on Rotten Tomatoes), which probably erected a fairly sizable barrier to entry, dooming — along with the mediocre marketing — the film from the outset. The $26 million represents the lowest gross for a Men in Black film, following three entries from Will Smith and Tommy Lee Jones that all scored over $50 million.
Sony probably wishes it had gone with the Men in Black/21 Jump Street crossover instead, although they at least kept the cost down on MiB: International, which cost only $110 million to produce compared to the $220 million cost of the previous entry. The good news, at least, is that MiB: International was tracking much better overseas, where it earned $73 million, so profitability is not completely out of the question, even if the film did flop in the States.

Last week's top film Secret Life of Pets 2, which debuted with less than half the opening weekend of the original, continued to underperform, dropping nearly 50 percent and earning $23.8 million in its second weekend. After 10 days, it's earned $91 million, which is still $13 million less than the original earned in its opening weekend. Disney's Aladdin, meanwhile, continues to be the top choice for kids this summer, at least until Toy Story 4 comes along next weekend. Aladdin earned $16.7 million in its fourth weekend and has now earned a healthy $263 million stateside, plus more than $400 million overseas.
Last week's bomb, Dark Phoenix, meanwhile, continued to plummet, falling 74 percent in its second weekend to $9 million, It's only earned $51 million after two weekends, $14 million less than the opening weekend of the previous entry, X-Men: Apocalypse, which itself was a disappointment. The Elton John biopic, Rocketman, is quietly piecing together a decent summer. With $8.3 million, it's earned $65 million now, basically doubling that overseas, so it has roughly tripled its $40 million budget. Godzilla: King of the Monsters is a mixed bag. With $8.1 million this weekend and $93 million overall, it's something of a disappointment stateside (2014's Godzilla opened with $93 million). However, King of the Monsters is doing much better overseas, where it has earned around $250 million, so it can eke out a profit even with a $170 million price tag.
It was more bad news for sequels with the debut of Shaft, the fifth film in the Shaft series. With $8.3 million, it opened with about one-third of the revenue generated by the 2000 entry, which earned $21 million in its first weekend on its way to $70 million. This one will be lucky to earn $20 million, although it did garner a strong A Cinemascore despite overall negative critical reviews (35 percent on Rotten Tomatoes).

It did, however, fare better than the fantastic Late Night, which could only muster $5.1 million for Amazon, despite strong reviews (80 percent on Rotten Tomatoes) and a great first weekend in limited release. Unfortunately, most moviegoers probably saw it as better suited to home viewing, and even though I liked it a great deal, I can't disagree.
Sandwiched between Shaft and Late Night was the fifth week of John Wick 3: Parabellum, which continues to perform well, adding another $6.1 million to bring its five-week total to $148 million. In fact, it's been in the top ten longer than any other film this week, and stands at $276.1 million worldwide. Finally, Ma has quietly earned $40.5 million on a $6 million price tag after a $3.8 million third weekend.
Next weekend, four new films will attempt to reverse the slumping box office, and I suspect that one, Toy Story 4, will succeed. It remains to be seen, however, whether the Child's Play sequel will fall prey to franchise fatigue, while two original properties, Luc Besson's Anna and Neon's Wild Rose, attempt to pick up some counterprogramming revenue.
Source: Box Office Mojo, Deadline