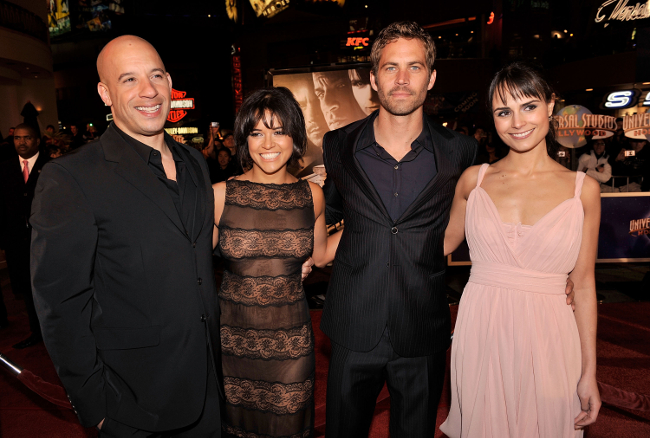 It was a little over a year ago that Fast and Furious franchise actress Michelle Rodriguez had our eyebrows raised like Dwayne Johnson when she showed up courtside at a New York Knicks game with model Cara Delevingne. "Big deal, actresses and models like to hang out," people might say, but it was clear from the drunken zombie look on Rodriguez's face as she and Delevingne made out in front of a sold-out Madison Square Garden crowd that something simply wasn't right. The behavior led her to Justin Bieber's boat in Ibiza, where she hooked up with troubled actor Zac Efron.
There's a good excuse for it all, Rodriguez recently told Entertainment Weekly, as the Furious 7 star simply had a hard time coping with the death of her costar and friend, Paul Walker.
The shock of losing a trusted friend, "the deepest guy I know," she says, caused her to unravel. "I actually went on a bit of a binge," she says, wiping away tears. "I went crazy a little bit"—pause—"I went pretty crazy. A lot of the stuff I did last year I would never do had I been in my right mind." (Via EW)
In case you need a quick reminder of that "pretty crazy" behavior, let's go back to that Jan. 7, 2014 Knicks game for this interesting moment: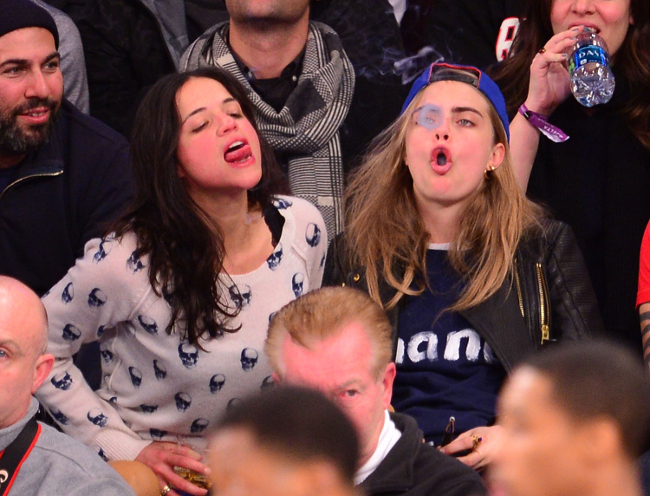 Rodriguez said that she didn't "feel alive" anymore, so she was basically just partying and having a lot of sex as a result. Walker's death, she admitted, left her feeling all alone with no purpose in this world.
"I could see Paul once every two years and just know there was another human on the planet who's deep like me, who loves like that," she says. "When that disappears, you wonder, 'Wait a minute, what do I hold on to?' There was nothing to tether me to this existence: 'Why am I f—ing here? And, like, why'd you leave without me?'"
How did Rodriguez manage to get herself back together, pick up the pieces and move on? She didn't really say. Instead, she made it seem like this was a matter of flipping a switch or shedding her skin, and simply moving on to bigger and better things.
"I just woke up [one morning] with a profound respect for living," she says. "I stood tall one day and I said, 'You know what, Michelle? Stop f—ing hiding. Go manifest.' And all of a sudden, I picked myself up and started hustling."
Sometimes you just have to stop vaping and making out with models at Knicks games and just hustle, damn it. Hustle.
Source: EW