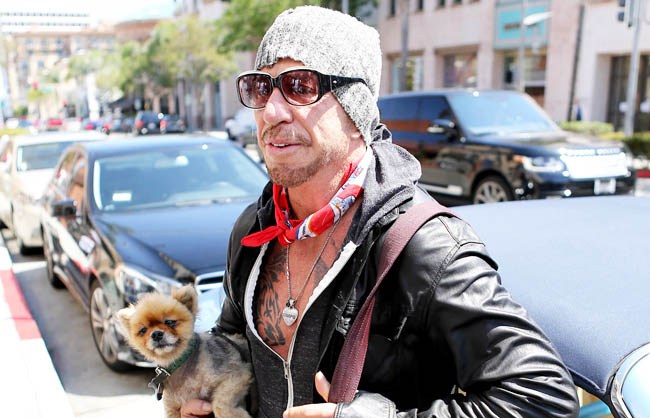 Mickey Rourke's career was broken, and so was his face. By the mid-1990s, the roughly handsome star of Diner and 9½ Weeks just looked rough — he was a failed boxer who was nominated for two Razzie Awards in the same year (Desperate Hours and Wild Orchid in 1990). This was years before The Wrestler, Iron Man 2, and picking fights with Donald Trump, and as Rourke told reporters at the premiere of the documentary Eating Happiness, "I was going through a really rough time." He continued, "I was hurting myself and I was sitting in the closet one day. I couldn't take it anymore and picked up a gun."
What stopped him from pulling the trigger? His pup.
"I was deciding what part of my head to put it on and my dog, Beau Jack, he [cried] and I looked over and he looked up at me like this and… he said [with his eyes], 'Who's going to look after me?' And it made me put the gun down. I was ready to go." (Via)
Rourke's passion for dogs is well known. A 2008 New York Times profile described his townhouse as having "photographs of dogs everywhere," including one of Beau Jack, whom Rourke gave mouth-to-mouth to when he collapsed in 2002; unfortunately, he passed away of a heart attack, then Rourke "took the body to a church to be blessed." At the Eating Happiness premiere, the actor said, "I get along better with dogs than I do with people."
Same, Mickey Rourke. Same.
(Via Page Six)