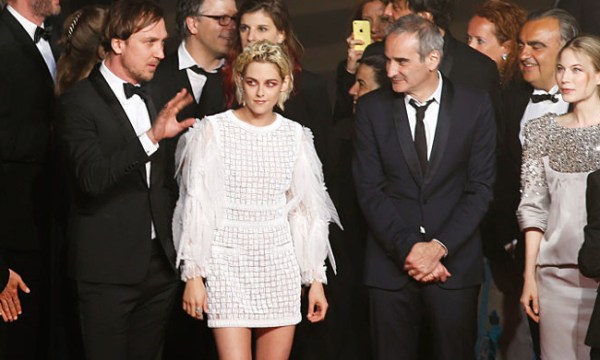 This week was pretty light on new movie trailers, which is somewhat surprising considering it is summertime and there's a blockbuster around every corner, and a breakout hit hiding under every pile of cocaine. But this was TV's big week, of course, as the big networks revealed their new fall show trailers at the upfronts, so most movie trailers were flying under the radar, including the latest for Popstar: Never Stop Never Stopping, which I believe will end up the best comedy of the year (although I don't want nerds yelling at me, so I'll just say it is Deadpool).
One of the more interesting stories out of the 69th Cannes Film Festival involves Personal Shopper, a ghost story from writer/director Olivier Assayas, who once again teams with his Clouds of Sils Maria actress Kristen Stewart. Variety reported earlier this week that the film, specifically its ending, was met with non-ghost boos at a screening, so naturally people who aren't hip to the whole Cannes scene were all, "Haha suck it, K-Stew!" But a lot of great films, including Pulp Fiction, have been booed by attendees over the years, and there were also reports that the boos came from just a few people. Basically, it's not a big deal.
That was even more evident when Stewart received a five-minute standing ovation at the official premiere for Personal Shopper, and so the boos have been muted by those who wish to praise her for everything from the film to her style. Bite your bottom lips and bow down before the queen.
Personal Shopper
Starring: Kristen Stewart, Anders Danielsen Lie, Lars Eidinger
Directed by: Olivier Assayas
What's it about?
Revolves around a ghost story that takes place in the fashion underworld of Paris. [IMDb]
Kristen Stewart plays a – you guessed it – personal shopper riding her scooter around Paris, but she hates her job because it's just "bullsh*t." Before she can update her LinkedIn profile and find a new career, though, she has to deal with the mysterious text messages that she's receiving, as well as the "signs" that her dead brother is leaving for her. Are the text messages also coming from her brother? That would be kind of weird, because one message reads, "I want you and I will have you," but hey, it's France. Personal Shopper gets a standing O from regular theaters on October 19.
The BFG
Starring: Rebecca Hall, Mark Rylance, Bill Hader, Jemaine Clement
Directed by: Steven Spielberg
What's it about?
A girl named Sophie encounters the Big Friendly Giant who, despite his intimidating appearance, turns out to be a kindhearted soul who is considered an outcast by the other giants because unlike his peers refuses to eat boys and girls. [IMDb]
Who's going to turn down a beautiful-looking kids' movie from Spielberg? Crazy people, that's who. And we've reached the point where I'll see anything that stars Bill Hader. Can we all agree to band together and push him to super-stardom? Less Gad, more Hader. That's my platform on the road to the White House. The BFG stomps its way into theaters on July 1.
The Phenom
Starring: Ethan Hawke, Johnny Simmons, Paul Giamatti
Directed by: Noah Buschel
What's it about?
A Major League rookie pitcher loses control over his pitching and is sent down to the minor leagues, where he begins sessions with an unorthodox sports psychologist. In the process, hidden conflicts with his overbearing father are brought to light. [IMDb]
It's gonna be hard to watch this premise and not think about Brendan Fraser being lowered to the pitching mound at Yankee Stadium by helicopter in The Scout, but just based on this trailer I am completely on board for Ethan Hawke as the ultimate sports dad. He looks downright terrifying as the abusive white trash father, but you know he'll only end up inspiring more flat tops at the local baseball fields. Sports dads are supremely unaware of their assholishness, so this will fuel their beer-gutted fires. The Phenom strikes out on a theatrical run on June 24.
Little Men
Starring: Jennifer Ehle, Alfred Molina, Greg Kinnear
Directed by: Ira Sachs
What's it about?
A new pair of best friends have their bond tested by their parents' battle over a dress shop lease. [IMDb]
Hot take time: I've always liked Greg Kinnear. He seems like a really nice dude, he's a good actor, and he's just so gosh darned charming. Also, he ain't too hard on the eyes, am I right, ladies? So, I've never understood how he isn't an A-list star or hasn't at least cemented himself as the go-to romcom divorced dad raising several adorable young kids while running a small business and looking for love in all the wrong places. Instead, he scared his hardcore Kinnear-ites with that Todd Burpo nonsense a couple years ago. It's nice to see him back in a sweeter drama like this is what I'm trying to say. Little Men hits the big screen on August 5.
Septembers of Shiraz
Starring: Salma Hayek, Adrien Brody
Directed by: Wayne Blair
What's it about?
Prior to the Iranian revolution it was a place where people of all religions were allowed to flourish. This is the story of a prosperous Jewish family who abandon everything before they are consumed by the passions of revolutionaries. [IMDb]
You know what would be awesome? After Brody's character is taken and tortured for information, Hayek's character has a super serious moment where she tells her daughter that she swore she had left her old life behind her and she vowed never to shed blood again, but now she's being forced to in order to save her husband, and BOOM! She's Everly and she grabs all these guns and starts killing everyone in her path. That would be amazing, but I'm going out on a limb here to guess that won't happen in this film. September comes early on June 24.
Incarnate
Starring: Carice van Houten, David Mazouz, Aaron Eckhart
Directed by: Brad Peyton
What's it about?
A wheelchair-bound exorcist is able to enter the subconscious minds of the possessed. [IMDb]
It's like The Exorcist met Inception for drinks and they ended up falling asleep while watching Constantine, and I couldn't be happier about how ridiculously silly this movie looks. I especially love how they put Aaron Eckhart in a wheelchair and gave him long hair and some stubble over his butt chin to make him look ugly, so when he enters the minds of the possessed people to take on the demons he's suddenly Handsome McLegswork. In all seriousness, even if this is the cheesiest movie ever made, it's such a fun take on exorcism movies and I commend everyone involved for just saying, "Screw it" and having some fun. Incarnate supposedly hits theater on September 30, but I'd keep an eye out for On Demand.
Fender Bender
Starring: Makenzie Vega, Cassidy Freeman, Bill Sage
Directed by: Mark Pavia
What's it about?
In a small New Mexico town, a 17-year-old high school girl who just got her driver's license gets into her first fender bender, innocently exchanging her personal information with an apologetic stranger. Later that stormy night, she is joined in her desolate suburban home by a couple of her school friends who try their best to make a night out of it, only to be visited by the stranger she so willingly handed all of her information to — a terrifying and bizarre serial killer who stalks the country's endless miles of roads and streets with his old rusty car, hungrily searching for his next unsuspecting victim. [IMDb]
Consider this an added bonus, because I hadn't even heard of this movie before it popped up after I finished watching the Incarnate trailer. As cheesy and ridiculous as this looks, I love a throwback to old school horror films, especially when it comes to the acting. For all we know that guy standing in the kitchen when the lights go out is the next Kevin Bacon. Don't tell him that, though, because we don't want him getting a big ego on us.