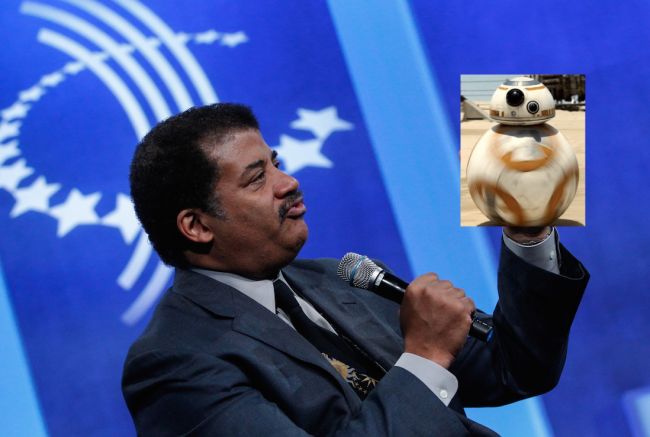 Neil deGrasse Tyson sees your childlike sense of wonderment at Gravity and Interstellar, and explains why you're wrong. On Saturday, Bill Nye's bestie tweeted, "Happy to share my observations of @StarWars Episode VII #TheForceAwakens (with mild spoiler alerts) if anybody is interested." His followers were very interested, but "out of respect" for those who hadn't seen the film yet, Tyson promised to delay his thoughts until Monday. It's Monday.
Beware spoilers below if you haven't seen The Force Awakens yet (you have).
Star Wars fanboys and -girls are fuming right now ("STOP SHOWING YOUR PRO-STAR TREK BIAS"). It's hilarious and I fully support Tyson. The tweets above don't depict the most unbelievable thing that happens in the movie, though.
That does. Tyson's not totally heartless, though. "In @StarWars #TheForceAwakens," he tweeted, "the lead character snacks on what includes Romanesco Broccoli, nature's only fractal food." He then shared a photo of Romanesco Broccoli, which is much more exciting than droids and laser fights and planets exploding.
Now Watch: 'Star Wars' vs 'Star Trek' Technology: Who Does It Better?