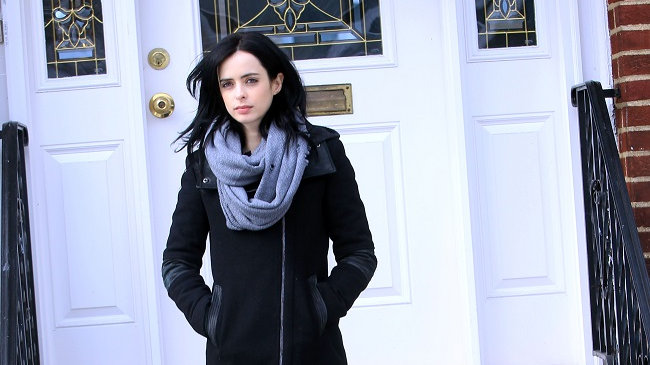 Netflix is doubling down on its original offerings in November, with a new John Mulaney stand-up special from Chicago, plus a trio of new series that should set your streaming module on binge mode. Also, a new documentary on film production studio Cannon's schlocky run during the '80s should definitely jump into your queue, especially if you're a fan of Jean-Claude Van Damme, Chuck Norris, and the terrible but great Masters of the Universe.
Here's the full list of titles coming to Netflix in November.
Marvel's Jessica Jones: Season 1 (Nov. 20)
If Daredevil was any indication on how well Marvel properties can do on the streaming service, then we're in for a treat with Jessica Jones (Krysten Ritter). Jones is a former super-heroine turned private investigator with a haunted past. Set in Hell's Kitchen — like Daredevil — it's only a matter of time before we get a crossover with the Marvel heroes, and Jones' marriage to Luke Cage will lead to Cage's own original series on Netflix.
Master of None: Season 1 (Nov. 6)
Aziz Ansari regularly broaches the subject of relationships in his work, and Master of None looks to extend that conversation. Ansari plays Dev, a New York actor traversing the choppy waters of racism, stereotypes, and of course, companionship. Ansari was excellent in Parks and Rec, so we're expecting big things from this Netflix original.
With Bob and David: Season 1 (Nov. 13)
With a resume that includes Saturday Night Live, The Ben Stiller Show, and HBO's Mr. Show, Bob Odenkirk and David Cross are veterans of the sketch comedy game. Since the latter program, Odenkirk and Cross have starred in and written a gaggle of projects, and Odenkirk even garnered an Emmy nomination for Better Call Saul. Back together again, you can expect the comedy team to don ridiculous outfits, and skewer just about every pop-culture trope while refreshing your queue of masturbation jokes.

Here's everything else coming to Netflix this month…
Nov. 1
Beethoven's Christmas Adventure (2011)
Girlfriends' Guide to Divorce: Season 1
Idris Elba: Mandela, My Dad and Me (2015)
Last Days in Vietnam (2014)
Pasion de Gavilanes (2003)
Robot Overlords (2015)
Seven Deadly Sins: Season 1 – Netflix Original
Smithsonian Channel: The Day Kennedy Died (2013)
The Last Time You Had Fun (2014)
The SpongeBob SquarePants Movie (2004)
Thomas & Friends: The Christmas Engines (2014)
Twinsters (2015)
Worst Year of My Life, Again: Season 1
Nov. 2
Last Tango in Halifax: Season 3
Nov. 3
Do I Sound Gay? (2014)
Julius Jr.: Season 2
The Midnight Swim (2014)
Nov. 5
Amapola (2014)
Amour Fou (2014)
The Runner (2015)
Nov. 6
Care Bears & Cousins: Season 1 – Netflix Original
Nov. 7
LeapFrog Letter Factory: Great Shape Mystery (2015)
Nov. 12
Anna Karenina (2012)
Nov. 13
Atención Atención: Season 1
Call Me Lucky (2015)
John Mulaney: The Comeback Kid (2015) – Netflix Original
Young & Hungry: Season 2 — New Episodes
Nov. 14
Blue Caprice (2013)
Dior and I (2014)
Nov. 15
Continuum: Season 4
Jessie: Season 4
People, Places, Things (2015)
Soaked in Bleach (2015)
Tengo Ganas de Ti (2012)
Nov. 16
Cristela: Season 1
Nov. 18
Black Butler: Season 3
River (2015) – Netflix Original
Nov. 20
LEGO Ninjago: Masters of Spinjitzu: Season 3
Sin Tetas No Hay Paraiso (2007)
Nov. 23
The Red Road: Season 2
Ultimate Spider-Man: Season 3
Nov. 24
Liv and Maddie: Season 2
Nov. 25
Gringolandia: Season 3
Home (2014)
Switched at Birth: Season 4
Nov. 26
Zipper (2015)
Nov. 28
A Perfect Man (2013)
Best of Enemies (2015)
The Best Offer (2013)
Nov. 29
Electric Boogaloo: The Wild, Untold Story of Cannon Films (2014)