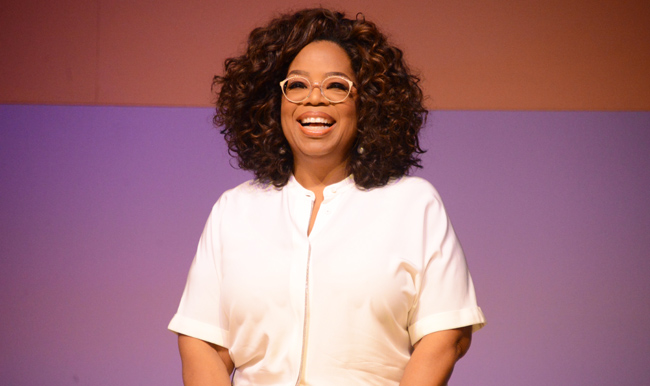 It's hardly a secret that Disney and Marvel Studios are pushing hard for the critically acclaimed and widely beloved Black Panther to earn a Best Picture nomination in next year's Academy Awards. If the chances weren't already looking good, now they're even better because Oprah Winfrey threw her endorsement behind the film this week — effectively giving it the "Oprah bump," if you will.
At an event at the the London West Hollywood hotel in Beverly Hills on Monday night, Oprah raved about the "game-changing" film before an audience of over 100 members of the Academy of Motion Picture Arts and Sciences.
Recalling an email she sent to her longtime friend and Disney chief Bob Iger, Winfrey called the movie "a phenomenon in every way, on every level," and that it makes her tear up to think that "little black children will grow up with 'Wakanda forever.'" And she was just getting started with her praise from there.
"It's game-changing, it's pride-making, it's dazzling, it's phenomenal.' That was my personal review, but I also know that so many people came, and came with their families, and then they went back and got more family members and then they told their coworkers and their friends. Because everybody recognized that something bigger than a movie was happening up on that screen.

We all knew, those of us who have come from the culture and the history, how lit it was. It just gave us life! But it was so affirming for everyone who saw it because you knew that it was bigger than this moment, it was a cultural happening, and just to be in the theater was to be a part of all of that."
You can see video of her remarks below:
Earlier this year, Disney along with Producer Kevin Feige and Marvel Studios hired an Oscar strategist to help with a Black Panther nomination campaign which was given a "significant awards season budget" — definitely a first for Marvel studios.
When a new Best Popular Film award was announced (and subsequently postponed), the studio made it clear in no uncertain terms that they were not altering their campaign to fit the new category, and still intended to court Best Picture. The odds are now looking better than ever.