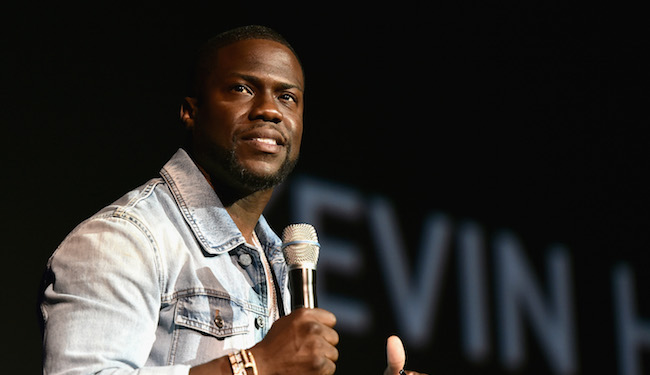 Throughout the ever-swelling migraine that has been the lead-up to the 2019 Oscars ceremony, which has struggled to find an acceptable host for a particularly delicate era, there has always been the nuclear option: Why not go with no host at all? According to Variety, that option has become even more likely a possibility, with one anonymous source claiming top brass at the Academy of Motion Pictures Arts and Sciences is "freaking out," especially post-Kevin Hart-gate.
If you're only now joining us, the comedian spent around 24 hours as the official host for the ceremony, scheduled to air on ABC on February 24. Shortly after Hart accepted the gig — mere hours after reports that every person AMPAS had approached for the gig had shot it down — old tweets he'd made, in which he repeatedly used homophobic slurs, were dug up. (Hart dropped such language around 2011, around the time he was gaining mainstream popularity.) Hart subsequently turned down the job, albeit without necessarily apologizing for his words.
"My clients are bummed," the anonymous source told Variety. "They're bummed Kevin didn't stay the course and serve as an example. It dampens the experience, hopefully [the Academy] can pull it together so we can focus on the excitement."
AMPAS' Board of Governors have scheduled a meeting for Tuesday, in which they'll try to reach a speedy solution — one that may simply be to ditch the host. Instead there would be, as per the source, "a bunch of huge celebs, something SNL style, and buzzy people to throw to commercial."
A host-less Oscars wouldn't be a first: Five ceremonies, in its 89 years, have flown without one. The first was in 1939. The three between 1969 and 1971 had no one leading the charge or making dumb jokes. The most recent occasion was in 1989, the year Rain Man took home the top prize.
Of course, an Oscars host is not only there to move things along; they're there to boost ratings. And Oscar ratings have been dropping over the last handful of years. In 2014, when Ellen DeGeneres hosted, the telecast scored 43.74 million, which has generally been the average during the modern day. But compare that with the 2018 Oscars: For Jimmy Kimmel's second consecutive turn as emcee, the number was down to 26.5 million, or nearly half that recent peak. Ergo, going hostless may not be seen by Board members as a safe bet.
Still, who wants the gig that no one wants? And is this task really as hard as everyone's making it out to be? Just beg and plead with Tiffany Haddish and Maya Rudolph already.
(Via Variety)