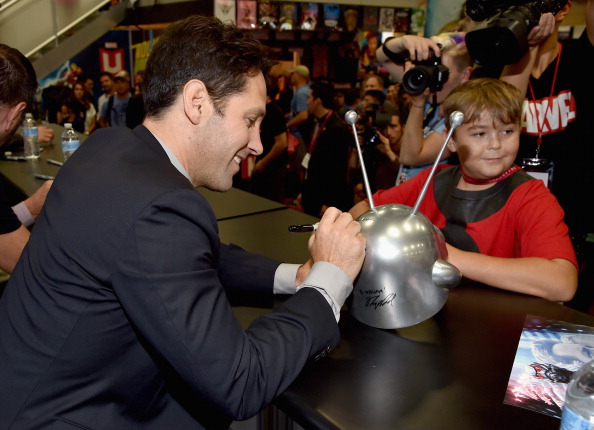 It has been over half a year since Edgar Wright left Marvel's upcoming Ant-Man movie, but his departure is still hanging over the press coverage for the film, including Paul Rudd's upcoming interview with Entertainment Weekly.
Wright had developed Ant-Man for over a decade with co-writer Joe Cornish, and Rudd was cast as Scott Lang, a.k.a. Ant-Man while Wright was still with the project. While Rudd was supportive of the new script and creative team, he called the experience "a bit of an emotional rollercoaster."
"It all happened pretty quickly," says Rudd. "Edgar called me, and then it was just out in all the trades. It was a bit of a whirlwind, to say the least." Was the actor tempted to follow his friend out the door? "Well, I mean, there are lots of things that go through your mind," he says. "There are certain things I can and can't do, and then there also certain things I will and won't say. But I was devastated, you know."
After Wright's departure, Peyton Reed (Yes Man) stepped in as the film's new director, and the script was rewritten by Paul Rudd and Adam McKay (Anchorman). McKay and Rudd were a natural pairing, having worked together previously on Anchorman, but Rudd insisted that Ant-Man would not be Ant-Man without the work of Wright and Cornish.
"The idea, the trajectory, the goal, and the blueprint of it all, is really Edgar and Joe," says the actor. "It's their story. We changed some scenes, we added new sequences, we changed some characters, we added new characters. If you took the two scripts and held them up together they'd be very different—but the idea is all theirs."
Audiences will have to wait until July 17 to see if Ant-Man's shifting creative team was a necessary change or a colossal miscalculation on the part of Marvel. The recent teaser trailer did not reveal very much, and the Ant-Man poster revealed even less. However, there is still half a year for the Marvel and Disney promotional machine to move Ant-Man out of Edgar Wright's shadow.
Source: Entertainment Weekly