On October 24, Quentin Tarantino took part in a rally against police brutality in New York City. The event, which was organized months in advance by RiseUpOctober, aimed to "bring justice" for citizens who are killed by officers. Some questioned the decision to hold the event four days after officer Randolph Holder was shot and killed as he pursued a bicycle thief.
At the rally, Tarantino read the names of victims and told the crowd, "I have to call a murder a murder, and I have to call the murderers the murderers." His speech was not welcomed by the Patrolmen's Benevolent Association, which functions as the New York police union. The organization called for a boycott of all "depraved" films by Tarantino. The union's leader, Patrick Lynch, called Tarantino a director "who makes a living glorifying crime and violence" and a slanderous purveyor of "Cop Fiction."
Now the boycott has grown with the inclusion of the National Association of Police Organizations, which represents 1,000 departments (and over 240,000 sworn officers) across the United States. Over a thousand precincts — including those in Los Angeles, Los Vegas, Corpus Christi, Boston, Chicago, Indianapolis, and West Palm Beach — have reportedly joined the boycott. On Thursday, the NAPO web site declared the organization's intentions:

"We ask officers to stop working special assignments or off-duty jobs, such as providing security, traffic control or technical advice for any of Tarantino's projects … As a high profile figure, Tarantino's language is utterly irresponsible, particularly at a time when the nation is seeing increasing and persistent calls for the killing of officers. Anti-police rhetoric like Tarantino's threatens the safety of police and citizens alike. The police he is calling murderers are the same officers who were present along the protest route to ensure the safety of protesters, who provide security when he is filming, and who put their lives on the line to protect our communities day in and day out."
On Friday, the New Jersey State PBA joined in the Tarantino boycott with their own letter of intent:
"It is hard not to see the anti-police rhetoric that has been stirred up in the nation over the past year. We don't know if this irresponsible speech led directly to the recent murder of officers around the nation, but Mr. Tarantino should be mindful of the potential dangers that can result from the dangerous rhetoric once it is ingrained in the mind of a person who is willing to harm an officer … He has an obligation to be more responsible. This is not a movie, this is real life where police officers lives are impacted by his words."
Tarantino's next movie, The Hateful Eight, arrives on Christmas Day. The Weinstein Company has not responded to news of the boycott as of yet.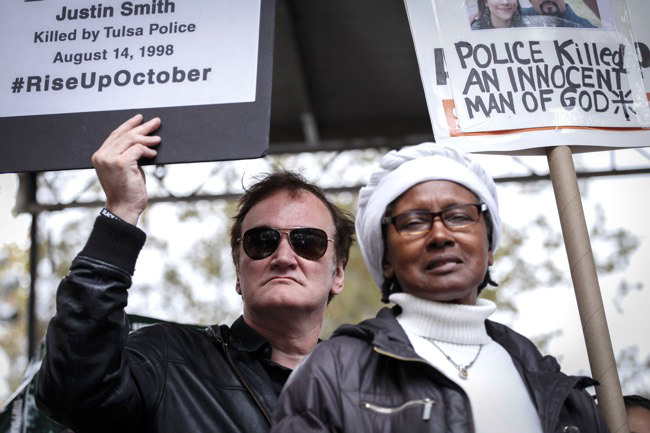 (Via Variety)