Is Bohemian Rhapsody winner Rami Malek the new Jennifer Lawrence? He took a huge tumble at the Oscars, and although his fall didn't air on the broadcast in spectacular manner of JLaw, the results were almost equally dramatic. Granted, Malek didn't surprise many people by winning Best Actor (although whether he deserved to win wasn't a cut-and-dried affair), and there were a lot of perplexed folks regarding the film's several wins. Still, no one could question how frightening it was when Malek fell off the stage, probably fueled by adrenaline and clearly in shock while this photo was snapped.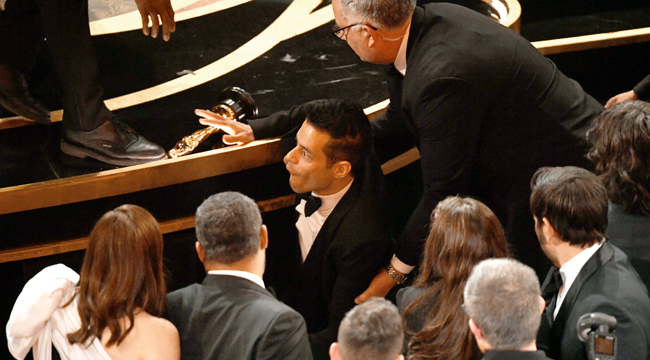 This video clip of the moment Rami fell is making the rounds for obvious reasons. As the audio indicates, he wiped out hard.
Thankfully, Rami was okay. According to People, paramedics rushed to treat him as he sat in a front-row seat in the Dolby theater. He didn't appear to show any outward signs of injury while speaking to reporters following the fall, and Malek then attended the 20th Century Fox after party, where guitarist Brian May praised the Mr. Robot star for his portrayal of late frontman Freddie Mercury.
There are undoubtedly some folks making Queen-related "bite the dust" jokes out there, and I'm obviously not above making the tasteless crack myself, but only because he's in good health. And probably sleeping off his Oscar glory at this very moment.