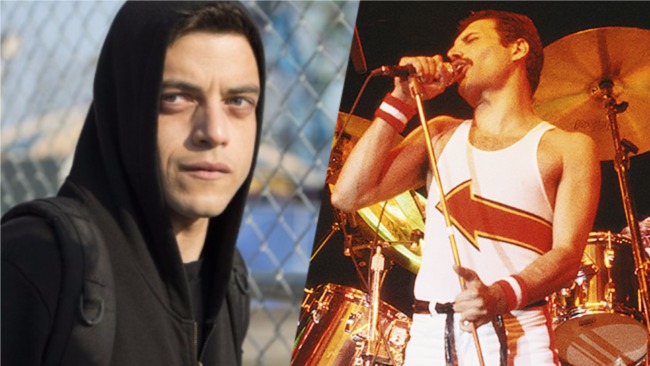 Wondering whether or not anyone actually saw his Emmy win for Mr. Robot isn't the only thing actor Rami Malek is probably stressing over right now. That's because the star of the breakout series on USA will play Freddie Mercury, the late lead singer of the British rock band Queen, in an upcoming biopic. Titled Bohemian Rhapsody after the group's iconic, head-banging tune, the film will also be directed by X-Men: Apocalypse helmer Bryan Singer.
Per Deadline's exclusive report, Malek and Singer's additions to the project offer a glimmer of hope that Mercury's larger-than-life character (and voice) will finally be brought to life on the big screen. Written by The Theory of Everything screenwriter Anthony McCarten, Bohemian Rhapsody will "[focus] on the band and its iconic lead singer" and aims to begin production sometime in 2017.
Singer posted a photo from the famous "Bohemian Rhapsody" music video on his official Instagram account, saying he was "looking forward" to working with Malek:
Comedian Sacha Baron Cohen was previously attached to an earlier incarnation of the project headed by Queen's surviving members, though creative disputes eventually led to a rather public rift between him and guitarist Brian May. May and Queen drummer Roger Taylor will serve as executive producers on Bohemian Rhapsody.
(Via Deadline)