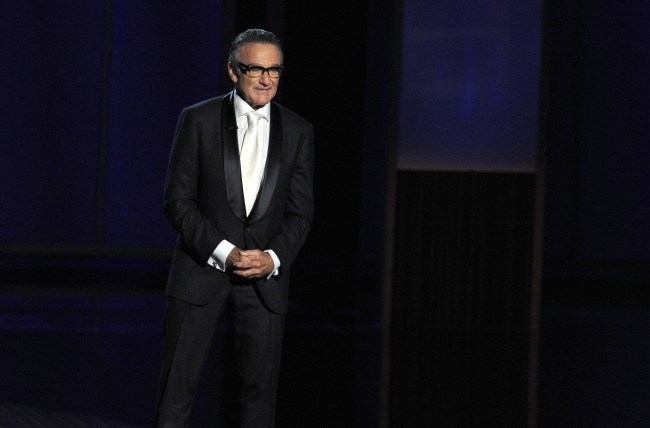 On the day that Robin Williams would have turned 64, it's still hard to fully grasp that the once-bright star is no longer with us. The Oscar winner's untimely departure left a hole in Hollywood that will never, and truly can never, be filled.
Nary a bad word has been said about the star, although his death has revealed heartbreaking details about his quiet, but ongoing, battle with depression and opened up the comedic world to thoughtful discussion about humor and sadness. The tragic end to the Mrs. Doubtfire actor's impressive life, however, only illuminates the magic Williams created for fans across the world. He made us laugh. He made us cry.
As we approach the year anniversary of Williams' death, it feels right to honor the star with the words of those who knew him best… his innumerable costars, companions, and collaborators.
Conan O'Brien
O'Brien unfortunately received news that Williams had passed while taping his TBS show. The host handled it gracefully, speaking with respect and admiration for the late Williams, all while fighting back tears. The host didn't know the actor well outside of his late night appearances, but was touched personally by his well-known generosity. Williams bought him a bike.
"I was kind of low, and Robin loved to ride, and I loved to ride, and he bought me a bicycle, but this was so Robin Williams. He bought me this bicycle, and he had it delivered to my house, and it was the most absurd bicycle you've ever seen. It was bright orange and bright green and had shamrocks on it.

So, I called Robin up because, who does that? I didn't know him well enough to justify this kind of, 'You didn't get me anything.' So, I called him up and I just said, 'Robin, I'm floored by this bike.' And all he would say was, 'Well, I knew you ride, and I knew you could use it,' and he went, 'Does it look ridiculous? Does it really look ridiculous?' And I said, 'Yeah, it looks ridiculous.' And he went, 'Good. Do you really look stupid riding it?' I said, 'Yeah, I'm going to look really stupid.' And he said, 'Well, then that's good then.'"
Billy Crystal
Crystal and Williams were longtime friends and collaborators, often hosting Comic Relief with fellow pal Whoopi Goldberg. When the Emmys were set to air just two weeks after the actor's passing, showrunners asked Crystal to do the impossible… memorialize a star who no one was ready to say goodbye to.
"He made us laugh. Hard. Every time you saw him on television and movies, in nightclubs, arenas, hospitals, homeless shelters, for the troops overseas, and even in a dying girl's living room for her last wish. I spent many happy hours with Robin on stage. The brilliance was astounding. The relentless energy was kind of thrilling. I used to think if I could just put a saddle on him and stay on for eight seconds, I was going to do okay… He was the greatest friend you could ever imagine… supportive, protective, loving… It's very hard to talk about him in the past because he was so present, in all our lives…

For almost 40 years, he was the brightest star in the comedy galaxy."
Norm Macdonald:
Saturday Night Live vet Norm Macdonald was just rising up the comedy ranks when he was first introduced to Williams backstage at The Late Show. It was Macdonald's first stand-up appearance at the show, and he said, through a series of tweets the day after Williams' death, that he was "terrified." Referring to Williams only as "the funniest man in the world," Macdonald detailed how the star went into full on character mode, jokingly taking his measurements and speaking to his friend on the phone for 10 minutes.
"The funniest man alive was in my dressing room a good half-hour and was far funnier than the set I had to do soon. All of a sudden, it was, had to. When he left my dressing room, I felt alone. As alone as I ever remember feeling. Until today. Unacceptable."
President Barack Obama:
The leader of the free world's voice spoke for Americans everywhere after Williams' suicide, memorializing the actor from the viewpoint of a moviegoer who, like many of us, fell in love with the actor's charm onscreen. While Williams' extensive work with the USO warranted the presidential tribute, it seems that Obama was simply a heartbroken fan on August 11.
"Robin Williams was an airman, a doctor, a genie, a nanny, a president, a professor, a bangarang Peter Pan, and everything in between. But he was one of a kind. He arrived in our lives as an alien, but he ended up touching every element of the human spirit. He made us laugh. He made us cry. He gave his immeasurable talent freely and generously to those who needed it most, from our troops stationed abroad to the marginalized on our own streets."
Nathan Lane:
Lane and Williams' onscreen pairing in Birdcage, the 1996 remake of La Cage aux Folles, is not to be forgotten. Playing a gay couple who must act conservative to win over their son's future in-laws, the duo induced full belly laughs, for viewers and even Lane.
"I feel I have to say something more than just 'heartbreaking and shocking,' which everyone has said and I feel, as well, but something a little more personal. Thus, the following: One day in 1995, while riffing in the character of a snobby French toy store owner, Robin made me laugh so hard and so long that I cried. It seemed to please him no end. Yesterday, I cried again at the thought that he was gone. What I will always remember about Robin, perhaps even more than his comic genius, extraordinary talent, and astounding intellect, was his huge heart… his tremendous kindness, generosity, and compassion as an acting partner, colleague, and fellow traveler in a difficult world."
Glenn Close:
The Fatal Attraction actress made her onscreen debut with Williams in 1982's The World According to Garp, an experience she shared with fans on Facebook in the days following his passing.
"Robin was incredibly sensitive and gentle and loving. He was very self-critical. During Garp, we had a press conference, and I was asked to go along with Robin. I watched this quiet man, who I'd never seen reading a newspaper or magazine or watching TV, explode into the press room and do an amazing turn on all the most current events, people and issues. He wove it all into a cohesive whole with no notes, nothing but his genius. It was breathtaking in its spontaneity and brilliance. Everyone was completely blown away. When we walked out of the room together, Robin turned to me with a worried look and asked in a whisper, 'Was that all right?' I gave him a long hug and said, 'Yes! You were incredible.' He checked to make sure I really meant it and then went to his trailer."
Chris Gethard:
Comedian Chris Gethard once had the great honor – and challenge – of performing stand-up with known loose cannon Williams. The writer relayed the story to Vulture last year, explaining how the Jumanji actor made an unexpected appearance at a sketch comedy show that Gethard was running through New York City's Upright Citizens Brigade Theater. Not only did Williams show up to the little program unannounced, he asked if he could perform. Gethard described playing alongside the rule-breaker as being "steamrolled."
"Robin Williams may not care about any of the rules, but he absolutely cares about the people. He cares about the people onstage with him having a good experience, and you can sense that pouring out of him alongside his sweat. He cares about making sure we all could look him in the eye and know we are in it together, and he cares about making every single person in that basement theater have a good time. He doesn't ooze confidence, not at all. He seemed nervous until the second he got onstage. What he oozes is empathy, an empathy that gives him both the need and ability to make people have a better time than they were having before he got onstage."
Minnie Driver:
Good Will Hunting is responsible for the careers of many of today's Hollywood heavyweights, mainly because Williams believed in two kids from Boston. Minnie Driver earned an Oscar nod for her performance, and Williams ultimately won one for his. The British actress said that her favorite memory from filming the movie was a scene she wasn't even in.
"It's sad now. But it was watching Matt [Damon] and Ben [Affleck] shoot that park bench scene [with Williams], and it was really beautiful. He did this amazing impromptu stand-up routine to all the people eating their sandwiches on the common and people coming out of buildings because they heard he was doing this. At the end of lunch, there were about 300 people. He was a good man."
Ben Stiller:
Williams made history fun again as Teddy Roosevelt in the kid's film franchise Night at the Museum, starring Stiller. The Meet the Parents star described, like many, Williams' remarkable graciousness.
"His kindness and generosity is what I think of. How kind he was to anyone who wanted to connect with him. And he could not help but be funny all the time. He would do something as long as it would keep you laughing. He made many, many film crews laugh out loud before the audiences ever saw it. He made such a big impact on the world. So, there is the man, and his talent, and I think in his case both were extraordinary."
Chris Columbus:
Columbus and Williams were oft-collaborators, with the director helming many of the films that featured the star's most iconic roles: Mrs. Doubtfire, Nine Months, Bicentennial Man. They were rumored to be pairing up again for a Doubtfire sequel, a reboot that now will never come.
"We have lost one of our most inspired and gifted comic minds, as well as one of this generation's greatest actors. To watch Robin work was a magical and special privilege. His performances were unlike anything any of us had ever seen, they came from some spiritual and otherworldly place. He truly was one of the few people who deserved the title of 'genius.' We were friends for 21 years. Our children grew up together, he inspired us to spend our lives in San Francisco, and I loved him like a brother. The world was a better place with Robin in it. And his beautiful legacy will live on forever."
Happy birthday, Robin. We leave you with this: