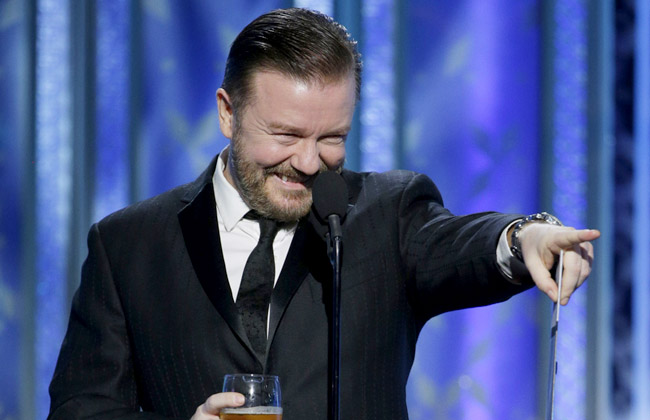 After saying he would never emcee again, Ricky Gervais is returning as host for the 2016 Golden Globe Awards. With the Golden Globes having benefitted from Tina Fey and Amy Poehler's sharp wit for the past three years, and with Chris Rock returning to host the Academy Awards, this should continue the trend of funny people mercilessly roasting celebrities at major awards shows nicely.
Deadline reports that NBC approached Gervais to host again, with the support of the Hollywood Foreign Press Association, whose then-president said that Gervais "crossed a line" after his first stint hosting in 2010. If you can recall back that far, this is the year that Gervais made a drinking joke at Mel Gibson's expense.
Deadline also reports that the Golden Globes saw a ratings increase across all three years that he hosted the awards show from 2010 to 2012. This probably explains the rapturous quotes from officials involved in the decision, including from current HFPA president Lorenzo Soria: "His off-the-cuff wit and quirky charm will surely have the room and audiences around the world at the edge of their seats."
I'm excited to see what Gervais will do with this role again, but I'm hoping Poehler and Fey will at least return as presenters.