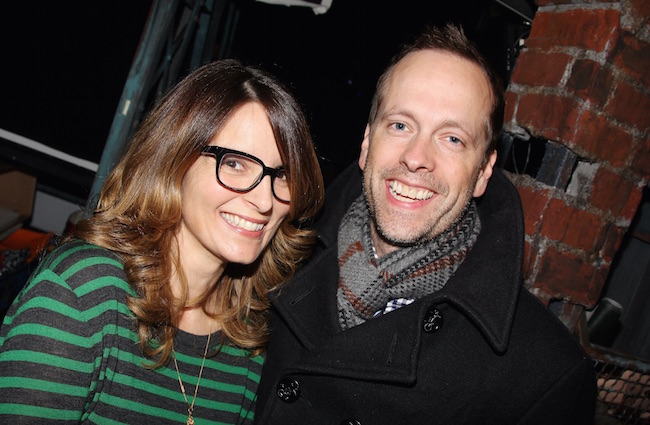 When I met Robert Carlock at his hotel just south of Central Park, he had a face that read, "Yeah, I know, I've heard this before," when I mentioned that the trailer for Whiskey Tango Foxtrot, which depicts almost a "zany comedy," doesn't really match up with the final product, which is a little more somber and serious. Granted, as Carlock pointed out about the movie he wrote (based off of Kim Barker's memoir), it's a tough movie to sell. But, as we got deeper and deeper into this interview, it becomes apparent: Carlock has been here many, many times before.
In the late '90s, Carlock was part of an almost superteam of future comedy giants that included Steve Carell, Stephen Colbert, Robert Smigel, Charlie Kaufman, and Louis C.K. on the primetime network show, The Dana Carvey Show, which lasted a grand total of seven episodes. (Carlock and I have discussed this show before at length a few years ago.) After his stint on SNL, he and Tina Fey created 30 Rock, which initially lived in the cultural shadow of Aaron Sorkin's Studio 60 on the Sunset Strip and wasn't given much of a chance. Of course, Studio 60 lasted one season, while 30 Rock lasted seven. And then there's Carlock and Fey's 30 Rock follow-up Unbreakable Kimmy Schmidt, a show that looked D.O.A. when it left NBC's schedule, only to be picked up by Netflix. Now Carlock and Fey are starting to write its third season. So, yeah, Carlock has experience with this kind of thing.
In Whiskey Tango Foxtrot, Tina Fey plays Kim Baker, a reporter who takes an assignment embedded in Kabul to cover the war in Afghanistan. And no matter what the trailers say, this isn't "wacky." It's more a look at what happens to a person who is surrounded by war for so long that it starts to become "normal." Ahead, Carlock explains his writing process and takes us through the tribulations of getting both 30 Rock and Kimmy Schmidt off the ground. Carlock also reflects on writing for Joey, the short-lived Friends spinoff that taught him a lesson that he still asks about his main characters today.
The trailer for this movie is nothing like the actual movie.
It's a tough thing to sell. You know, credit to Paramount for making it. Not a lot of movies like this get made.
You adapted this from Kim Barker's book about her experiences. That's a little different for you.
Yeah, it was daunting until I met Kim. At our first meeting, she said, "I know you're going to have to cut stuff. I know you're going to have to add stuff. I know you have to give it a plot and combine characters." And I'm like, "Oh, thank God." So, she gave me the liberty to take this crazy period in her life and give it the form a movie requires.
In lesser hands, this movie could have easily been one of those "they are not like us" movies.
It's a delicate thing, tonally. And we didn't want it to be "screwball." And even though it has real comic elements, those comic elements come from a real place and are often real stories.

You mentioned you've heard "this is better than I thought it would be" a few times. Is that annoying to hear?
It's better than the opposite.
"The trailer made this look awesome. What happened?"
I think everyone's been open during the process: "How do we sell this thing?"
And I'll admit, it's not like I think I have an answer.
I think they are hoping to get Tina Fey's core in, then it will be a word-of-mouth movie. People seem to like it … if they see it.