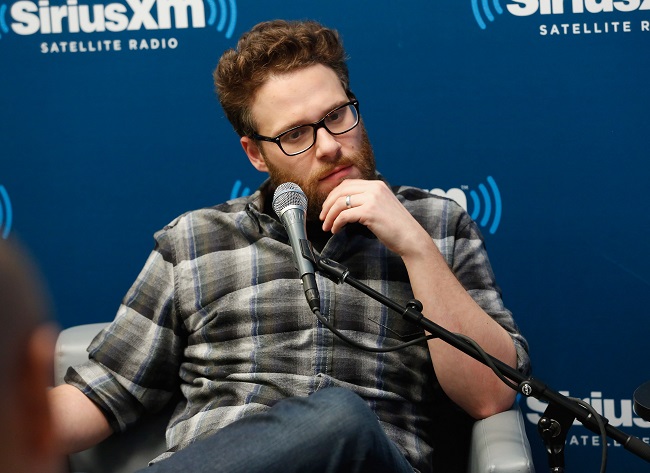 Lots and lots of people are sharing their opinions about Clint Eastwood's war drama American Sniper, which broke box office records this weekend. Some people are fawning all over the patriotic angle of the movie, based on the memoir of one of America's most lethal snipers, Chris Kyle, played by Oscar nominee Bradley Cooper. Others aren't as keen on the supposed glorification of war, like Michael Moore. Seth Rogen, who is coming off of his own experience in dealing with violent international relations, posted on Twitter that American Sniper reminded him of the Nazi propaganda movie shown in Quentin Tarantino's Inglorious Basterds and as you can guess, the response is not unanimously positive.
First, the Tweet:
And now, the context: the reason American Sniper may have reminded Rogen of Stolz der Nation (Nation's Pride), the movie-within-a-movie in Inglorious Basterds, is probably because that movie was about a celebrated military sniper (Daniel Bruhl's character), albeit a Nazi one. American Sniper is also about a celebrated military sniper, but an American one and not a Nazi. But both men were being revered and celebrated on the big screen for being very successful gunmen who killed many, many people.
But patriotic Americans will never be on board with having their military heroes compared to Nazis, even fictional ones in a crazy Tarantino movie. Here are a few responses to Rogen's Tweet.
This one doesn't understand what the word "ignore" means:
This guy is auditioning to be Rogen's new agent:
https://twitter.com/POsroff/status/557189551211704320
This is a fat joke because that's generally the angle taken by people who aren't smart enough to engage in a real argument:
I don't think this person knows who Seth Rogen is at all, but Tweeted at him anyway because she had an amazing fat joke:
This one is definitely the most civilized, but the saddest because "No Tacos":
Because "Seths" have terrible opinions:
And pretend-killing a North Korean dictator was fine, but not comparing two movies about snipers:
And then Seth Rogen wiped a single tear from his cheek with a $100 bill before rolling an artisan joint and retiring to his infinity pool.
Source: Twitter