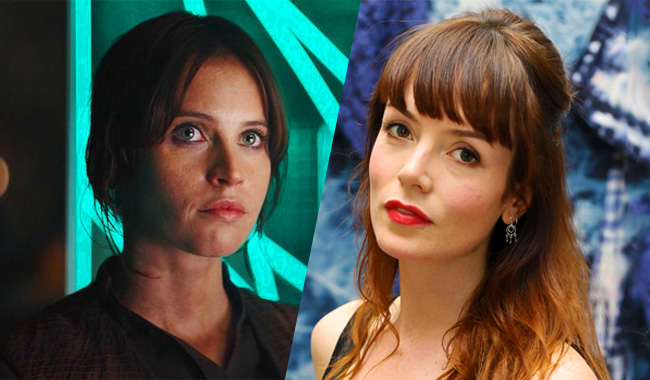 Expect there to be a lot of talk about family in the upcoming Rogue One: A Star Wars Story. We already know Mads Mikkelsen will be playing Galen Erso, one of the designers of the Death Star, and father to Felicity Jones' Jyn Erso, but now it's come out that Jyn's mom Lyra Erso will also be in the movie.
Lyra will be played by Valene Kane, an Irish actress best-known for appearing alongside Gillian Anderson and Jamie Dornan in the excellent serial killer drama The Fall (do track it down on Netflix). Speaking to Belfast Live, Kane seemed to be as surprised and excited as anybody about the role…
"I grew up watching Stars Wars and I didn't believe it was happening until I was filming in Iceland. It has a really edgy independent vibe."
Kane's casting as Jyn Erso's mom is interesting for a number of reasons. First, Kane is only 30, while Felicity Jones is 32, which makes for an odd/impossible mother-daughter relationship. It's likely Lyra Erso will only appear in flashbacks (Mads Mikkelsen has confirmed those will be a part of the movie), and may no longer be alive by the time the events of Rogue One roll around.
Of course, many fans will latch onto the news about Jyn Erso's mom, as there's plenty of speculation that Jyn's mother to a rather important character herself. If, as many have speculated, Jyn is mother to Star Wars: The Force Awakens' Rey, we could have three generations of badass, galaxy-saving heroines on our hands. Kane, Jones and Daisy Ridley certainly look like they could be related, but maybe that's just a red herring. Hopefully we'll find out for sure eventually.
Rogue One: A Star Wars Story hits theaters Dec. 16. You can also see Valene Kane in season three of The Fall, which is expected to hit Netflix in early 2017.
(Via Belfast Live)