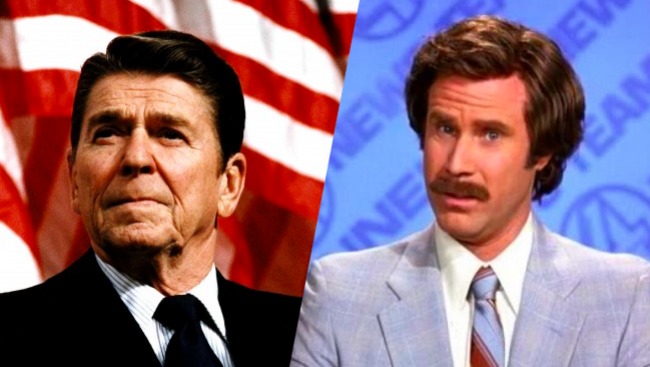 Yesterday, a Ronald Reagan biopic was announced, and while that may sound like the opportunity for a serious look at a complex presidency, that's not the case at all. Will Ferrell is attached to star, and the script has been on the Hollywood Black List for some time. Penned by Mike Rosolio, Reagan "begins at the start of the ex-president's second term when he falls into dementia and an ambitious intern is tasked with convincing the commander in chief that he is an actor playing the president in a movie."
Regardless of your political affiliation, a comedy about dementia is more than a bit tasteless. Reagan's daughter, Patti Davis, certainly thinks so. In an open letter she wrote and published at The Daily Beast, Davis implores "Mr. Ferrell" to not treat her father's devastating illness as fodder for jokes.
Perhaps for your comedy you would like to visit some dementia facilities. I have — I didn't find anything comedic there, and my hope would be that if you're a decent human being, you wouldn't either.

I look into haunted eyes that remind me of my own when my father was ill. I listen to stories of helplessness and loss and am continually moved by the bravery of those who wake up every morning not knowing who their loved one will be that day, or what will be lost.

The only certainty with Alzheimer's is that more will be lost and the disease will always win in the end.

Perhaps you would like to explain to them how this disease is suitable material for a comedy.
You can read the entire letter here, and no matter what you think about the conservative icon, it's worth considering whether or not a terrible disease like Alzheimer's is really a source of entertainment.
(Via The Daily Beast)