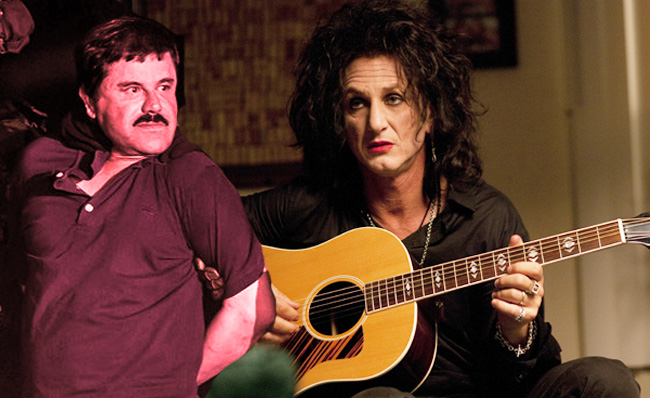 Sean Penn and Kate del Castillo have been warned to "run like the wind" in the opinion of Mexican cartel expert Mike Vigil in a piece over at Yahoo News. Both played a role in the capture of the fugitive drug lord "El Chapo" according to Mexican authorities thanks to Penn's Rolling Stone interview. Now they might have bit off more than can chew according to Vigil.
Vigil is a former U.S. Drug Enforcement Agency chief of international operations and has years of undercover work within the Mexican cartels. According to his opinion, it wouldn't be too difficult for the cartel to come after people like Penn and del Castillo:
"These cartels are very violent, they do not forgive any transgression and they will respond in a most violent manner," Vigil told Yahoo News. "These are people who have dismembered, who have decapitated individuals. So killing Sean Penn and del Castillo means absolutely nothing to them…

"If Chapo Guzman perceives that they cooperated with authorities in his capture, [the cartel] will go after them,"
The imminent danger seems to be for del Castillo and her family. According to Vigil, the personal aspect of her role in making the interview happen and the location of her family in Mexico make her an easier target:
"He developed a childlike infatuation with del Castillo and forgot about the fact that when he was captured in 2014, he was captured as a result of telephone monitoring," Vigil said. "Apart from that, [del Castillo] is originally from Mexico, she has all of her family in Mexico. One of the traditional violent methods [the cartels] use is if they can't get to the target, they'll go after their family members."
Sean Penn has already gone on record saying he believes that the Mexican government put the target on his and del Castillo's backs by publicizing their connection to his capture. Along with his article's "failure" to create a dialogue about the ongoing drug war, it would seem that it has also forced some questions about the safety of those involved.
(Via Yahoo News)
Now Watch: The Full Story Of El Chapo's Escape And Recapture