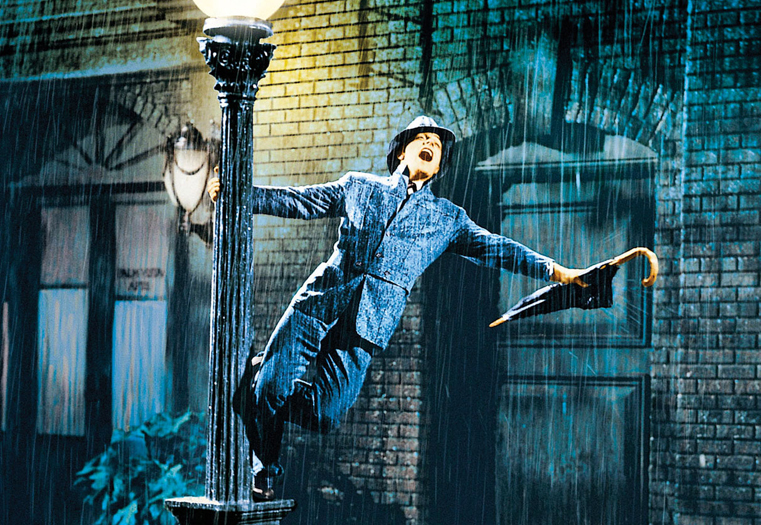 Film director Stanley Donen, creator of some of cinema's most joyful images, has died, as per The Hollywood Reporter. Donen was 94, and in the near-century he was on Earth he filled screens with all manner of entertainments, many of them musicals, including [deep breath] On the Town, Seven Brides for Seven Brothers, It's Always Fair Weather, Royal Wedding, The Pajama Game, Damn Yankees, Funny Face, and a little picture called Singin' in the Rain.
On the Town and Singin' in the Rain — the latter not only a great movie musical but a great movie about movies — were co-directed with Gene Kelly, whose light, cheerful effervescence matched the tone of Donen's films. Meeting Kelly was key for the young Donen — a bullied Jewish boy from South Carolina who took solace in the movies, among them the first Fred Astaire-Ginger Rogers effort Flying Down to Rio, from 1933.
Donen would later work with Astaire, in his second directorial effort, Royal Wedding. He would also, along with Vincente Minnelli, advance the movie musical, turning them from gritty, modest entertainments into Technicolor extravaganzas. But he arrived at the job of film director, as many did at the time, by a labyrinthine route. First he took up dance. Then he moved to New York. He became a chorus dancer, first on stage and then, after relocating to Los Angeles, in the movies.
Once there, Donen quickly realized he was better behind the scenes. Meeting Gene Kelly proved fortuitous for both of them: Kelly helped turn Donen into a movie director, while Donen made Kelly an even better movie star. As a dancer himself, Donen knew how to film dance in a way that preserved their theatricality while still making them cinematic. Donen was reportedly to blame for the iconic and strictly filmic moment in 1945's Anchors Away when Kelly danced with Jerry the cartoon mouse.
The first half of Donen's film career is mostly musicals, with Kelly and with others, but he dabbled in other light genres, including fizzy romantic comedies, like the Elizabeth Taylor-starring Love is Better Than Ever, Indiscreet, and Once More, With Feeling! He started expanding his repertoire even further in the 1960s, beginning with 1963's Charade — a twisty, Hitchcockian thriller by way of Donen, which is to say dark and ominous yet still, somehow, light and charming.
Donen was key in establishing a clean, cinemascope, Technicolor look to '50s Hollywood cinema, but as the '60s wore on, he threw all that away. The long, immaculately composed widescreen images were replaced by handheld cameras, aggressive zooms, and hyper-editing. Two for the Road, with Hepburn and the also newly late Albert Finney as unhappy marrieds, was revolutionary for both its intricate, non-linear, time-jumping editing strategies, but also for its dark subject matter — one of Hollywood's most brutally honest looks at the struggles of a relationship that might be more destructive than romantic.
Donen's last couple movies weren't his best; the 1980 sci-fi picture Saturn 3 gave the world a ponytailed and surreally dubbed Harvey Keitel hanging with a robot, though also fodder for screenwriter Martin Amis' later novel Money. But 1967's Bedazzled, with Peter Cook and Dudley Moore, is a delight, as is 1978's Movie Movie — a loving and hilarious pastiche of '30s programmers that gives us two quickie pictures for the price of one. (It currently streams on Amazon Prime.) When Donen received a Lifetime Achievement Oscar in 1998, he continued to charm and delight, breaking out into a rendition of "Cheek to Cheek" and a little soft-shoe.
Donen is survived by his longtime partner, Elaine May, herself one of stage and screen's finest and most creative entertainers.
Though much of his cinema is furtively about pain and sadness, Donen would never want people to stay down for long. So let's leave you with one of the finer parts of his most famous picture, Singin' in the Rain — not one of the big numbers you've seen a billion times before, but one that may arguably be the film's MVP.
(Via THR)