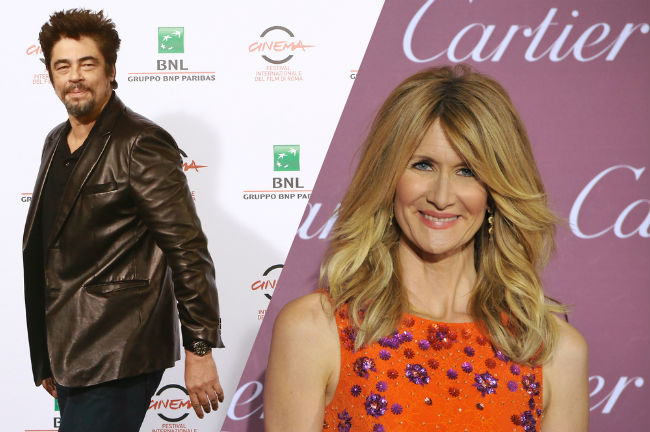 Today, in addition to the first shot of the movie being put on YouTube, Star Wars: Episode VIII announced that Benicio Del Toro and Laura Dern were joining the cast. But, of course, the announcement didn't reveal just who they were playing. And while that info is important, the better question is, where are these two strong actors going to fit into the franchise?
While the Star Wars franchise has had no shortage of respected actors, these two stand out in part because you don't often see them in movies the size of Episode VIII. Del Toro earned an Oscar for his work in Traffic, and was nominated for 21 Grams. Dern has two Oscar nominations herself, and has so many acting nominations and wins elsewhere that Wikipedia had to give her a separate page for them.
Since Jurassic Park, Dern has generally avoided effects-heavy productions in favor of working on dramas and with major directors. She was a fixture of Robert Altman's later work and has been a part of David Lynch's ensemble for decades. In fact, she's also worked with Lynch on his forthcoming revival of Twin Peaks. Del Toro has been a little more playful in the jobs he takes. He does have a small, but important role as The Collector in the Marvel Cinematic Universe, after all, and he was willing to take over for Lon Chaney Jr. in 2010's underrated The Wolfman. That said, he's coming to Episode VIII after he finishes up his work with Terrence Malick in Weightless, a romantic drama set in the Austin music scene.
So, what are they doing in the single biggest franchise in film? At a guess, it's because of who's directing. Rian Johnson was an indie darling before the surprising announcement he'd be directing Episode VIII, with critically acclaimed movies like Brick and Looper, not to mention the finale of Breaking Bad, on his resumé. Looper in particular showed Johnson's ability to blend action, character, and mind-bending SF concepts to deliver a thoughtful crowd-pleaser. It also found Johnson threading some narrow needles with his actors: How often do you see two actors playing young and old versions of the same character, meeting each other in a diner to argue ethics?
The fact that Johnson was allowed to pursue Dern and Del Toro, and the fact that they accepted a movie so far out of their usual career trajectories, is a strong sign we're in for something different from Star Wars. How different, though, is something we'll have to wait until next year to find out.