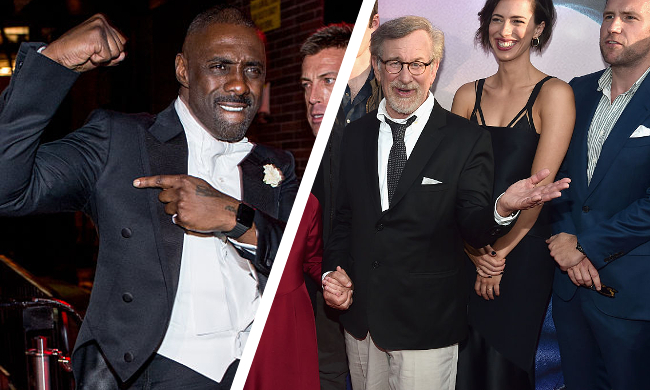 Idris Elba may have inadvertently taken himself out of the running to play James Bond after recently declaring himself "too old" for the part. But the actor, whose name always seems to be in the mix for the coveted role, may be changing his tune once he hears who recently threw support behind his 007 candidacy: Steven Spielberg.
The legendary director voiced his approval for Elba-as-Bond during a recent interview with the UK's Express, where he declared himself a major fan of the 007 franchise (he lobbied former Bond producer Albert Cubby Broccoli several times to direct an installment, but to no avail). And he revealed that he's very eager to see a black Bond someday, preferably in the next flick. "I think Idris would be my first choice of Bond if Daniel decides not to come back," Spielberg told The Express.
That's the million-dollar question right now, whether Craig is truly done, which has still not been made completely official, despite the current 007 infamously insinuating during the Spectre press tour that he would rather kill himself than sign on for another film. According to The Express, Bond producers are very eager to work out a deal with the actor, and have reportedly pushed the next flick's release date to 2018 to give him more time to make a decision. Based on Craig's comments so far, it seems unlikely that he'll be back, but then again, stranger things have happened. If he does decide to leave, though, the door appears to be wide open for Elba.
It's heartening that a major Hollywood player like Spielberg wants to see Elba behind the wheels of the Aston Martin, and the actor has already proven that he's neither shaken nor stirred by all the racist nonsense that some critics of his candidacy have thrown his way. Sadly, he also faced a similar backlash when he was announced as Roland in The Dark Tower, though thankfully, he didn't let that bother him, either. As that colorblind casting shows, Elba can slide into iconic roles with ease. Here's hoping for his sake that the Bond creative team is paying attention.
(Via The Express)