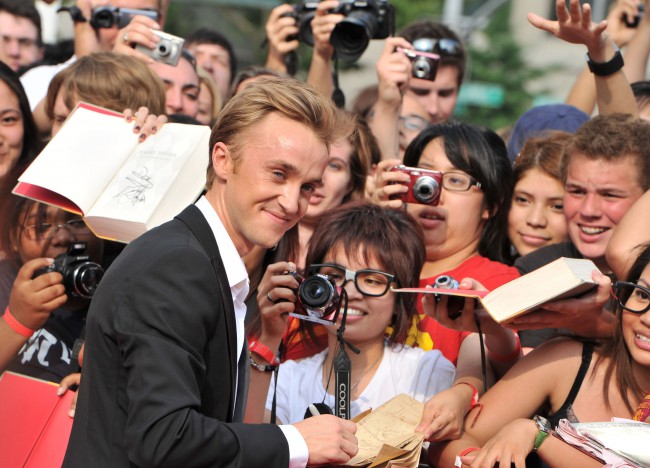 Actor Tom Felton, who is best known as Draco Malfoy from the Harry Potter films, is producing a documentary with the BBC about super-fans, including the Harry Potter fandom.
The untitled documentary is scheduled to air on the BBC in April and then will be available online. The film will include interviews with Felton's former co-stars, including Daniel Radcliffe and Rupert Grint, as well as author J.K. Rowling. Felton has teased that the film will explore cosplay and memorabilia collecting, but he says what interested him the most were fan events, like red carpets or conventions, and the experience of being on the other side:
"It was a massive insight for me, going behind the ropes and seeing what people actually do to stand behind a railing at an event. You don't really think about the three hours it took them to stand there and get the best spot."
Felton has a lot of personal experience interacting with Harry Potter fans from years of walking the red carpet, signing autographs, and being exposed to Draco Malfoy slash fiction. Last year, he disguised himself as a fanboy and waited at the stage door for It's Only a Play to prank his former co-star Rupert Grint. He was also heart broken when he signed up for Pottermore, Rowling's online community for Harry Potter fans, and was sorted into Gryffindor House.
His exposure to these intense fans, particularly during his formative years, will give him a unique perspective on the subject matter to be sure, and the documentary is almost a guaranteed ratings hit for the BBC. Eight years after the last book and four years after the last film, the world still isn't over Harry Potter.
Source: The Daily Dot