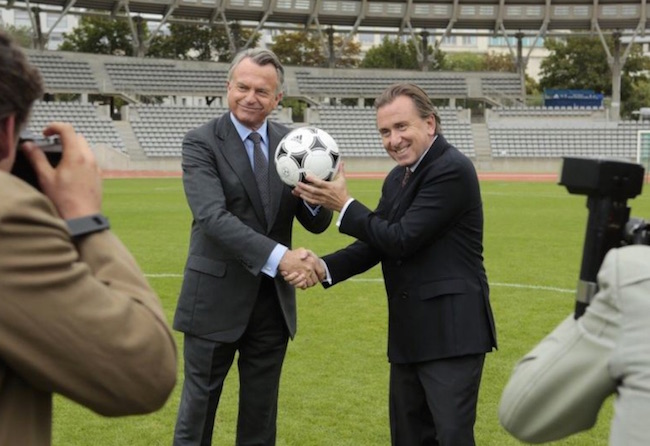 Sepp Blatter is a hero who tried to end the corruption in FIFA and was betrayed in the process.
If you base your entire knowledge of FIFA from the events depicted in United Passions — a film almost entirely funded by FIFA that opens in select cities tomorrow — then that opening sentence up there would be your only reasonable takeaway. This is a movie that ends with Blatter (played by Tim Roth) being reelected to a standing ovation as the music swells. United Passions is the unintentionally funniest movie of 2015.
Look, I'm not going to even try to pretend that before this current scandal I paid attention to FIFA outside of once every four years, or that time John Oliver had a funny segment. I knew people hated FIFA and I knew they were corrupt, but a lot of organizations are corrupt. Of course, now that a number of indictments have been handed down, we now know just how corrupt. Before the FIFA indictments, United Passions would have just been boring, causing an occasional eye roll here and there. Now, it's hilarious. And making a movie this full of propaganda just makes FIFA look even more corrupt. And it's a whole movie! With real actors! Tim Roth is in this movie! Gérard Depardieu is in this movie! Sam Neill plays a Brazilian in this movie!
I suspect the conversation around the FIFA offices concerning the prospects of Sam Neill, a British man, playing a Brazilian man probably went something like this:
"Is it insensitive to hire a British actor to play a Brazilian? Maybe we should hire a Brazilian actor?"
"Please just hire the most famous person who will agree to be in this movie."
Instead of writing more about the narrative of this movie — a movie that begins in 1904 (!!) — I will just list out every time United Passions made me laugh out loud. Scenes that are only there to make FIFA look like heroes caused most of these laughing occurrences.
– A conversation about future FIFA president Jules Rimet (played by Depardieu) goes like this:
"He's mad."
"No, he's a visionary."
The line, "I forbid you from forbidding me from anything," is spoken, which made me nostalgic for Attack of the Clones.