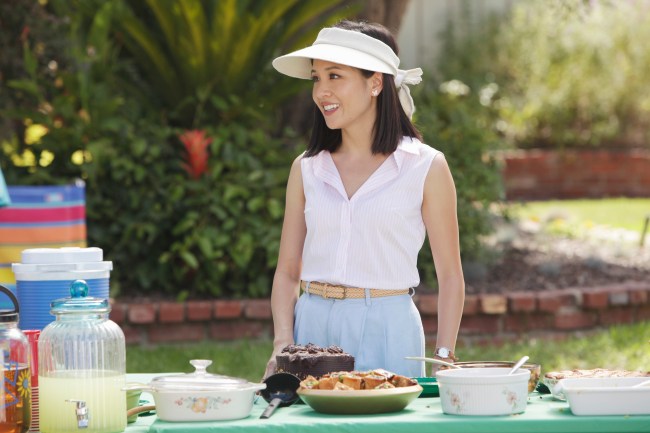 Constance Wu is an actress probably best know for portraying Jessica Huang on ABC's Fresh Off the Boat. You may have also seen her on Franklin & Bash, Law & Order: Special Victims Unit and One Life to Live. Currently, she stars in the film Parallels, which premiered on Netflix on March 1 and will be available on other VOD platforms on March 31.
Constance was nice enough to take a few minutes out of her busy schedule recently to answer a few questions from us.
1. You walk into a bar. What do your order from the bartender?
Bourbon on the rocks. Or single malt, usually speyside.
2. Who's your favorite person to follow on Twitter?
I'm not active enough on it to have a fav…
3. What's currently waiting for you on your DVR/TiVO?
I don't have one. But if I did it would be Getting On and Fargo.
4. It's your last meal — what are you going out with?
Red Curry with White Rice.
5. What websites do you visit on a regular basis?
Gmail, Grantland.
6. What's the most frequently played song on your iPod?
"Don't Worry Baby" by The Beach Boys.
7. The first face that comes to mind when you think "punchable?"
Bill O'Reilly, but even I feel mean for saying that.
8. What's your favorite meme?
9. Dogs or cats?
Dogs
10. Best concert of your life was…?
Yo-Yo Ma. For reals. Restraint and flourish and depth and intelligence and emotion all in one cellist.
11. What book are you most likely to give as a gift?
If the person is a big reader like myself: The Log of the S.S. The Mrs. Unguentine by Stanley Burroughs or Gilead by Marilynne Robinson. If they're not big into reading: This is Water, a pretty gift book version of David Foster Wallace's brilliant commencement speech. For poetry lovers: The Great Fires by Jack Gilbert.
12. What's the nicest thing anyone has ever done for you?
Once, when I was in New York, I got in a big fight with my then-boyfriend and got into a cab, and I was just crying quietly. Couldn't stop. My cab driver didn't say anything, but after several blocks, he pulled over, went into a store and bought me a big box of tissues and water bottle. Then, when he dropped me off, he refused the fare and said, "It's okay… just take care of yourself" and drove away.
13. South Park or Family Guy?
King of the Hill.
14. You have an entire day to do whatever you want. What would you do?
Go skiing in Aspen, then have hot cider by a fire with friends.
15. What movie can you not resist watching if it's on?
Zoolander.
16. What's your favorite sports team or teams?
New York Giants.
17. Where did you eat the best meal of your life?
I find this question rather dramatic.
18. The last movie you saw in a theater?
Still Alice.
19. Who was your first celebrity crush?
Peter Gallagher.
20. What would you cook if Nic Cage was coming to your house for dinner?
Pie.
Here's the trailer for Parallels…
PREVIOUSLY: Zephyr Benson