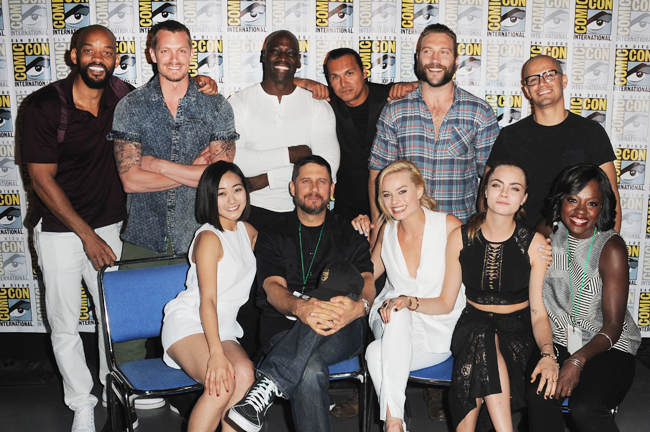 Aside from Star Wars: The Force Awakens, the Warner Bros. panel was the event at Comic-Con that had people camped outside of Hall H overnight. The studio put on a 90-minute panel, which was geared towards building momentum and (hopefully) knocking Marvel down a few pegs. Moderator Aisha Tyler led the presentation, which included a film that no one cares about (Man From U.N.C.L.E.) and a film that everyone cares about (Batman v. Superman). The Pan cast also stopped by to promote, we learned some news about the Green Lantern reboot, and the Batman v. Superman trailer dropped.
Oh, and there was a surprise appearance from the Suicide Squad cast. Let's start with the interesting stuff, shall we? David Ayer said a few words: "All this good versus evil sh*t" is kind of played out. It's time for bad versus evil, right?" Then the cast made their entrance. The crowd lost their minds when Will Smith walked onto the stage.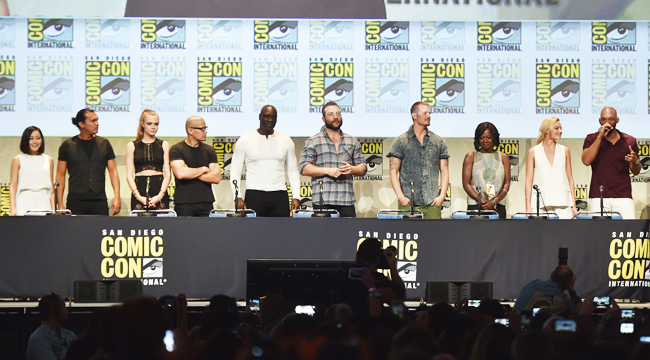 The first teaser trailer for the movie screened for the crowd. Most of the cast was there, though Leto was notably missing.
Leto's grill was present, however. This isn't good news for the Joker voice.
Here's an audio clip of the Joker voice. It sounds like Leto (oddly) isn't overacting.
https://instagram.com/p/5AiEEmJm_h/?taken-by=marcaces
The Suicide Squad cast quickly departed, as the cast of Batman v. Superman served as the main anchor for the Warner Bros. panel. Ben Affleck, Henry Cavill, Jesse Eisenberg and Gal Gadot all took the stage. Director Zack Synder emphasized how the film simply paid homage to The Dark Night Returns and lifted some story elements. In other words, this film won't be a direct translation. Affleck elaborated upon the sister cities of Metropolis and Gotham City.
Here's what Batfleck had to say about how the film moved and turned those cities into neighbors:
"There's this interesting idea of Metropolopis being this successful, wealthy city and Gotham being where downtrodden people live. Gotham people take the ferry to Metropolis, and there's this idea of wealth and power, power engenders fear, which made it feel real and smart."
Affleck revealed how Christian Bale gave him some very special advice in conquering the role: "Make sure you can piss in that suit."
Warner Bros. also used the panel for a quick Pan plug. Hugh Jackman and Garrett Hedlund represented cast. Director Joe Wright said the film is a "reframing" of the story, basically "Peter Pan for 2015." There are no clear-cut good or bad guys, and all the characters will show duplicity. Jackman called Wright a "visionary," and Garrett added that "every day was pretty magical," with hundreds of extras singing and dancing on set.
Meanwhile, The Man From U.N.C.L.E. slipped into the panel at the very beginning. The film appears to be a pretty straightforward reworking of the original. Armie Hammer, Henry Cavill, and Alicia Vikander discussed the challenges of making a 1960s period piece. A new trailer screened to "mild applause."
(via Slashfilm & The Daily Beast)