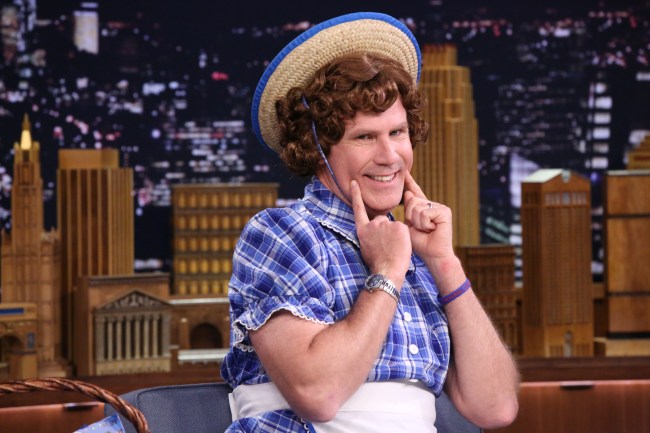 So you think you know Will Ferrell? You watch the Saturday Night Live – The Best of Will Ferrell special every time VH1 and E! fill a timeslot. You've seen and re-seen every Ferrell movie – even Land of the Lost. You are intimately familiar with the 48-year-old's naked figure (aren't we all?). But yet, the curly-haired comedian is so much more than his body and body of works. And because of that, we've rounded up some fascinating facts about the Get Hard star. So get ready to get educated – yes, even you, diehards.
Ferrell's dad was a longtime member of The Righteous Brothers's band.
Ferrell has some musical chops – whether he's in a store and he's "SINGING," delivering the cow bell, or he's battling Red Hot Chili Pepper's drummer Chad Smith in a drum-off. Any semblance of musical inclination comes from his father, Roy Lee Ferrell, a keyboardist and saxophonist for The Righteous Brothers. The 73-year-old toured with the band for almost 20 years. Bill Medley, one half of the duo known for songs like "Unchained Melody," is quite fond of his longtime tour mate, waxing on about the musician during a 2011 interview.
"He and I have dinner about once a week. We have been friends and band mates since 1963. He has been my musical director and conductor, road manager for a long time. I remember Will Ferrell when he was just little Will; now he is Big Will. Lee is a great piano player and sax player.
Ferrell's turn as a streaking frat star in Old School wasn't far from the truth.
Ferrell's tendency to shed his shorts started long before Saturday Night Live. During his undergrad days at USC, the star was often running naked around campus as a member of Delta Tau Delta fraternity.
"In college, they had this thing where you'd run naked on fraternity row, and if anyone challenged me, I'd be happy to do it," he once told Rolling Stone.
The actor has reneged on his love of Greek Life, however, calling for fraternities to disband after a racist chant incident at the University of Oklahoma in March.
"The incident in Oklahoma, that is a real argument for getting rid of the system altogether, in my opinion, even having been through a fraternity. Because when you break it down, it really is about creating cliques and clubs and being exclusionary. Fraternities were started as academic societies that were supposed to have a philanthropic arm to them. And when it's governed by those kinds of rules, then they're still beneficial. But you've got to be careful."
Ferrell didn't part with his virginity until age 21.
For someone who plays a lot of highly sexual characters, it's a little shocking that Ferrell held onto his virginity well into college. The star told Rolling Stone that he was a junior when he finally made whoopie, but he insisted the wait was no big deal: "In my mind's eye, it seemed like the way it was supposed to happen."