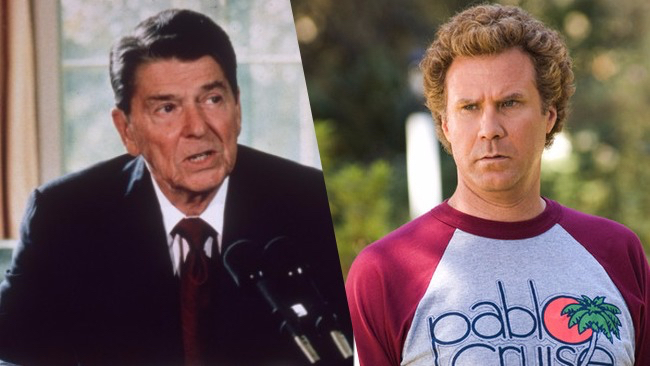 Are you excited/outraged by Will Ferrell's planned turn in an upcoming Ronald Reagan comedy biopic? You can now put those feelings in storage, because the 48-year-old actor is no longer attached to the role.
Page Six reports that Ferrell will not be participating in the film, which would have seen the SNL alum portray the former president falling into dementia in his second term and getting through with an intern convincing him that it's a movie role. It's the sort of high concept/high risk sort of script that made this Mike Rosolio penned commodity a hot property on Hollywood's fabled Black List, while teeing up a sizable amount of backlash.
Reagan's daughter Patti Davis wrote an open letter to Ferrell regarding the matter and heavily criticized the performer for potentially making light of her father's battle with Alzheimer's. Son Michael Reagan also offered up an online rebuke of the Reagan project.
A spokesperson for Ferrell confirmed to Page Six that you will not see the Anchorman star in the film.
"The REAGAN script is one of a number of scripts that had been submitted to Will Ferrell which he had considered. While it is by no means a 'Alzheimer's comedy' as has been suggested, Mr. Ferrell is not pursuing this project."
The status of Reagan is a bit of a mystery at this stage. Variety notes that "the film did not yet have a studio or financier involved" which raises questions about how/if the motion picture moves forward. It doesn't seem unreasonable to imagine the movie coming into existence, but would it arrive with a star on the same tier as Ferrell? Let's see how it plays out.
(via Page Six)