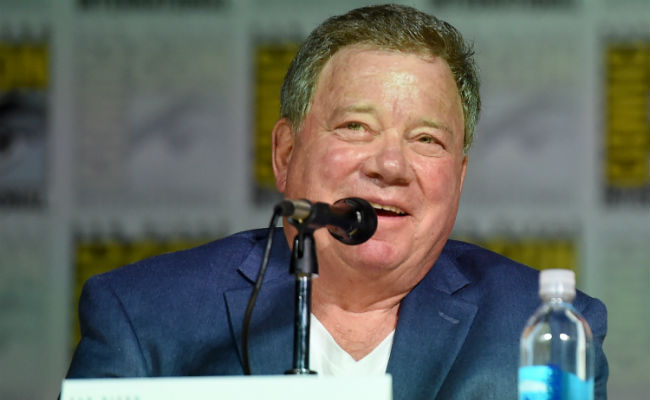 Excluding writer and director J.J. Abrams, fans of Star Trek and Star Wars usually aren't too keen on fraternizing with one another. Triumph the Insult Comic Dog hilariously proved this to be true at the Attack of the Clones premiere back in 2002 on Late Night with Conan O'Brien. But it's all science-fiction anyways, right? Why can't we all just get along and love our respective imaginary worlds in peace? Is that too much to ask?
According to Captain James T. Kirk himself, it is too much to ask. Or at least that's what William Shatner has been saying on Twitter ever since the third and final Star Wars: The Force Awakens trailer premiered last Monday. The 84-year-old actor trolled Star Wars fans throughout the night and the following day, pointing out how "derivative" the film franchise was and poking fun at everyone's shared love of a commercial.
This included poking fun at people like Adam Horowitz, co-creator of Once Upon a Time on ABC. When an advertisement for Monday Night Football's special premiere of the final trailer aired during his show, Horowitz gushed about it on Twitter. Shatner, using an image of himself because he's Shatner, expressed his disappointment.
When Horowitz tried to turn the tables and gush on Shatner, the latter wouldn't have it and instead made fun of the showrunner for "gushing over" a "pre-commercial."
Some of Shatner's Twitter followers took notice and decided to call him out on his hate. So he decided to keep on trolling.
If that wasn't bad enough, Shatner decided to pick apart The Force Awakens' many allusions — intentional or otherwise —  to science-fiction television shows that came before it. Like the original Battlestar Galactica.
And Space: 1999.
Not to mention the original series of Star Trek, of which the Star Wars films were supposedly derived.
Why have you forsaken us, Captain Kirk? What did we ever do to wrong you and incur your hashtagged wrath?
Is it because Chris Pine was cast in the Star Trek reboot instead of you? Yes, he's pretty to look at, but you'll always be our Captain Kirk.
(Via Cinema Blend)