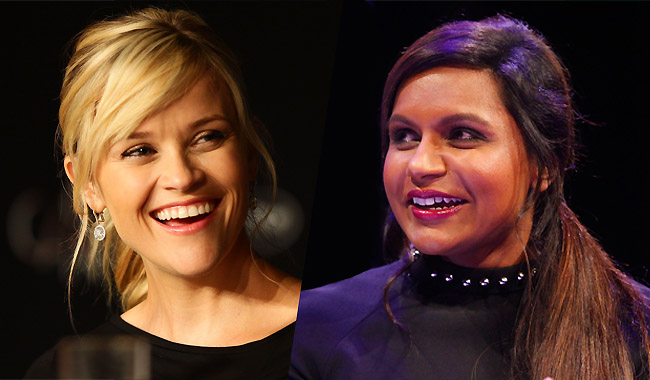 The anticipated Ava DuVernay (Selma) adaptation of Madeleine L'Engle's fantasy classic A Wrinkle in Time already has Oprah Windrey on board, and word is the movie's about to add two more formidable female presences.
According to The Hollywood Reporter, Reese Witherspoon and Mindy Kaling are both deep in talks to join A Wrinkle in Time. Like Winfrey, Witherspoon and Kaling will play one of the "Mrs. Ws," three supernatural women who guide the heroes of the story through their quest. Winfrey will play Mrs. Which, while Witherspoon and Kaling are up for the scuffy Mrs. Whatsit and literature-loving Mrs. Who respectively.
For those unfamiliar with the Newbery Medal winner, A Wrinkle in Time concerns a family of brainy kids trying to unravel the mystery of their scientist father's disappearance. This eventually involves traveling through space and time, visiting alien planets and all manner of other mind-bending adventures. In addition to DuVernay as director, A Wrinkle in Time is being written by Frozen co-director Jennifer Lee.
It's interesting that DuVernay has lined up her three Mrs. Ws before casting any of the child characters, who are really the stars of the story. Is DuVernay hoping to skew A Wrinkle in Time in a somewhat more adult direction, or is she just locking down some of her favorite performers while she can? Probably the latter.
A Wrinkle in Time begins production in November, and is expected to arrive in late 2017.